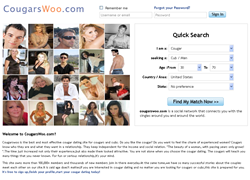 Los Angeles California (PRWEB) October 24, 2014
For many people there's really something special about making a romantic connection between a younger man and older woman – a cub and a cougar. In the past finding a way to meet an older woman or young man could be difficult, but now thanks to online dating it has never been so easy. Enter CougarsWoo, an incredibly popular cougar dating site that recently broke the milestone of 100,000 members. As the world's largest cougar dating site, most experts agree there's no better way to meet a partner that shares the same type of interests and attraction to intergenerational romance.
"If you love cougars and want to benefit from their experience, our site is absolutely perfect for you," commented a spokesperson from CougarsWoo. "What better place to meet a cougar than our site where they are actively hunting for cubs? We're very excited to go over 100,000 members and the numbers just keep growing each and everyday."
According to CougarsWoo getting connected on the site is as affordable as it is fun. The current price structure is: 1 month $29.95, 3 months $59.95 and 6 months $95.95. A 100% free trial offer is also available giving potential members a chance to see CougarsWoo in all its glory, before even making a commitment.
The response to the dating site from members has been completely enthusiastic.
John M., from New York, recently said, "Within a day of joining CougarsWoo I made some really interesting connections with older women that I followed through with real-world dates. I would recommend this to anyone who adores cougars. It's absolutely brilliant and well worth the price of membership."
For more information be sure to visit http://cougarswoo.com.