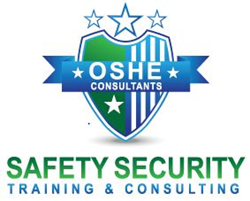 Very impressed with looking at safety from the process side, instead of the personal safety. Very captivating delivery of HSE.
Houston, Texas (PRWEB) October 25, 2014
This intensive 2-day course analyses human and organisational causes as significant factors when companies fail to recognise the warning signs (leading and Lagging Indicators) prior to workplace accidents. The programme utlises the work of Professor Andrew Hopkins and others to bring a very vivid view of the Management of Health Safety and Environment.
This international workshop is designed for strategic decision makers, including Safety Managers, management from middle to senior level, Plant Managers and Risk Managers, to give them the tools to significantly improve management of Occupational Health and Safety Risk Systems. [OSHE Consultants provides critical insights and lessons on the cultural and organizational causes of major industrial accidents. This program conveys simple yet powerful messages that help people understand the complexities and interconnecting components of HSE management systems.
Participants review why was there no focus on major hazard risk on these incidents? What is the distinction between process safety and personal safety? They learn to use the right metrics to measure your safety performance.
The two days program enables participants to understand how organisational structure may contribute to poor engineering decision making, become aware of the necessity of major hazard risk indicators reviewing Leading and Lagging Indicators in industry. Awareness that preoccupation with profit before safety comes at a cost to every organization. Understand how to learn from other accidents, defence in depth and dynamic risk assessments to improve safety.
On completion of day one (1) the key elements of a mindful organization and how it can be applied to becoming mindful will be discussed. Participants will be given the opportunity to identify improvement areas for their own organization and to develop an action plan for implementation in their own organisation.
While there is some focus on the BP Macondo Incident, the program only seeks to identify failings in management of HSE and is not geared to only personnel in the energy industry. Everyone from managers, supervisors, executives strategic decision makers, engineers, safety personnel, and others involved in the design, operation, modification or maintenance of hazardous plant or processes will benefit. Those seeking to develop an understanding of the organisational factors that can favor an incident or the multi-causal nature of accidents will be greatly impressed with the workshop.
Participants will acquire the essential background knowledge required to oversee the development and improvement of Safety Leadership within their organization and avoid the pitfalls that other organizations have made in the past.
The course is provided by OSHE Consultants, an international leader is Health, Safety & Environmental Training and Consulting for NEBOSH and OSHA courses in the USA, Caribbean, Europe and South America. Please visit their website at http://www.osheconsultants.com for more information or email at ezsafety@outlook.com . The programme is scheduled for Houston Texas January 13 and 14, 2015. Workshops are also scheduled in Kingston Jamaica, Trinidad & Tobago and Brasil. OSHE Consultant also offers the workshop in-house as many organizations see great value in the workshop for all their staff, not just HSE personnel. Interested participants can also email us at carlstien@aol.com