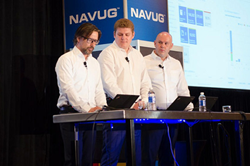 Year after year, ArcherPoint continues to support NAVUG…No one walks away from a NAVUG event without knowledge they can immediately begin using in their business, and that has always been the goal of NAVUG…actionable, usable knowledge
Atlanta, GA (PRWEB) October 23, 2014
ArcherPoint, LLC, a Microsoft Dynamics Gold ERP Partner specializing in Microsoft Dynamics NAV solutions and upgrades, today announced that the company was a Platinum sponsor for the 5th year and key members of the ArcherPoint team, including CEO Greg Kaupp, presented at NAVUG Summit 2014, formerly NAVUG Forum, in St. Louis, MO, last week.
NAVUG Summit, the annual conference for the Microsoft Dynamics NAV User Group, featuring three days of sessions and networking focused exclusively on Dynamics NAV and immersing users in the NAV community highlighted the release of Microsoft Dynamics NAV 2015.
With attendees traveling in from as far as Japan and Australia, this year's conference boasted record-breaking attendance. Microsoft's Marko Perisic and the Microsoft Dynamics NAV Product team provided a live demonstration of Dynamics NAV 2015 including a mobile/tablet application, document reporting, Microsoft Office 365 integration, and more.
The ArcherPoint team, including CEO Greg Kaupp, Microsoft MVP Matt Traxinger, and Lynette Chronister, presented sessions on topics including upgrading versus re-implementing, how to determine if an installation is successful, principles of good design, upgrading reports in NAV, and other technical and business sessions.
"Year after year, ArcherPoint continues to support NAVUG, and we always encourage the involvement of our customers and the Dynamics NAV community because this organization and Summit never stop delivering real value," said Suzanne Scanlan, ArcherPoint Marketing Manager. "No one walks away from a NAVUG event without knowledge they can immediately begin using in their business, and that has always been the goal of NAVUG…actionable, usable knowledge."
Next year's NAVUG Summit will be held October 12-15, 2015 in Reno, NV. To learn more about NAVUG Summit, visit navugsummit.com. To learn more about becoming a member of NAVUG, visit navug.com.
About ArcherPoint, LLC
Founded in 2002, ArcherPoint, LLC is the largest Microsoft Dynamics Gold Certified Partner in the US, focused exclusively on Microsoft Dynamics NAV. ArcherPoint has pioneered the use of Agile, Scrum- based techniques for ERP implementations and continues to explore ways to deliver more value for less cost on Microsoft's most popular ERP platform. For more information on ArcherPoint, contact Suzanne Scanlan at 866.343.4517, ext. 7133 or visit archerpoint.com.
About NAVUG
NAVUG (Microsoft Dynamics NAV User Group) is an independent group of NAV users who leverage highly focused education that is 100% end-user driven and directed. This community of users gets together (remotely and face-to-face) through a myriad of conferences, virtual tools, and programs to share knowledge and best practices. Our membership is made up of professionals who use Microsoft Dynamics NAV in their jobs every day, with roles including manufacturing, finance, IT, warehousing, distribution, retail, sales, and marketing. For more information on NAVUG, visit navug.com.
# # #