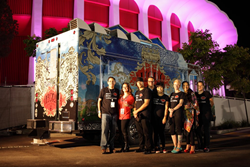 Healthy but not Boring
Los Angeles,CA (PRWEB) October 23, 2014
Alegria Starts Spreading in Los Angeles on Thursday October 23; Shouldn't eating great food make you feel happy?
Driving to the Westside to indulge in Chef Kalissa Krejcik's breakfast prime angus beef burger on a brioche bun with applewood smoked bacon, hashbrowns, a fried egg, provolone, red onion, avocado and Dijon aioli should no longer be an issue. Chef Kalissa and business partners Cristina Ruiz and Guillermo Ruan have spent the last year quietly at work conjuring their combined inspiration and enthusiasm for healthy and organic food into a restaurant on wheels.
Called Alegria Gourmet Food Truck, this truck will provide American comfort food with hints of the flavors from Mexico. Mr. Ruan and Mrs. Ruiz have been so inspired by the food scene in the Los Angeles area and by the conviction of Chef Kalissa's use of local and organic ingredients in her restaurant that when the idea of bringing her flavors to the burgeoning food truck scene it made perfect sense. The food truck's exterior wrap design was commissioned by Wrap One and resembles the intricate appliquéd suede called "Greca" of a mariachi suit. The interior is top notch as it was designed and manufactured by AA Cater Truck Inc.
The truck will feature three natural "agua frescas" including the detoxifying, complexion clearing and brightening green concoction known as "Simple Alegria". The juice is made with kale, granny apple, celery, lemon juice, nopal and agave. There is also the "Nueva Horchata" made with coconut milk, nutmeg and vanilla and the "Agua de Fresa" strawberry lemonade. Locally roasted coffee will also be made available.
Alegria is not trying to change the flavor profile of favorite comfort foods. It is trying to emphasize and expand the education of eating healthier meals in the entire Los Angeles area. It sources the majority of the ingredients used in the menu from local family run farms and farmer's markets. Mrs. Ruiz and Mr. Ruan had a difficult time finding a menu where all ingredients in the menu were sourced locally and organic. Buying locally guarantees freshness and provides seasonal options which make a huge difference in the taste of each menu item including the incredible salads. The Caesar's Salad is made with kale, Spanish white anchovies, local Asiago cheese, cracked pepitas (roasted shelled pumpkin seeds) with Meyer lemon & caramelized garlic vinaigrette with local Santa Barbara cold pressed olive oil. A light spinach salad and a good portioned cobb is also available on the menu. Salads will change with the season.
Breakfast will be served all day and includes the aforementioned signature burger called "Todo Lo Bueno" (translates to "All that is good"), sandwiches like the "Pavo Feliz" made with an all-natural ground turkey and brown rice burger patty, caramelized onions, spinach and cherries, provolone cheese, extra virgin olive oil, arugula and alfalfa sprouts served on all natural seven grain wheat with maple aioli. It tastes like "Thanksgiving". Some items not found on the "brick and mortar" menu include the "Sope Alegria", a masa flat cup coming together with pesto, red onion, spinach, provolone, avocado and house roasted salsa.
Alegria will be at Radical Media – 1630 12th Street, Santa Monica, CA 90404 starting at 12pm Noon and at 3272 Motor Avenue, Los Angeles, CA 90034 starting at 3:30pm. Follow the whereabouts of the truck on social media sites like Twitter using the handle: @AlegriaTruck and on Facebook and Instagram with the handle: @AlegriaFoodTruck. Enjoy a healthy meal without being bored and at the same time reduce the world's carbon footprint.