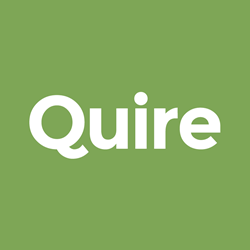 Manage your tasks naturally!
London (PRWEB) October 24, 2014
When it comes to Task or Project Management Tools, there are at the least hundreds of solutions out there in the market. Some providers emphasize on fancy features, some opt for project management level end-to-end solutions but sometimes you just want to go back to that original intention - a simple yet functional to-do list, without all the unnecessary features that complicate the UI, or slow down the performance.
Quire is the best option for achieving this balance. Simplicity is the driving principle behind Quire's user experience architecture. With a succinct and elegant UI, Quire delivers the most "human" task manager to user's doorsteps as it is based on the tree structure - the fundamental pattern we see everywhere in nature, how human minds work. Like how an idea spawns more ideas, a task may lead to sub-tasks.
Quire is also designed to be a centralized collaboration tool. File attachments, comments, as well as every modification, are instantly reflected for all online collaborators in real time. Real time and e-mail notifications are both available so users will never miss an important piece of information at work.
Quire beta is currently up and running with new feature updates introduced to make task management more convenient than ever, including but not limited to:

Pin a particular task and its subtasks (aka. zoom in)
Make a copy of project and tasks for templating
Transfer projects to another organization
Export projects through json
Task progression pie chart for keeping track of the team's progress
Quire is totally free for sign up here. Task management shouldn't be a burden, it can be this easy. Join now or follow Quire on Facebook, Twitter or G+ for more information.
About Potix
Potix Corporation develops and supports ZK, the #1 Java based Ajax solution on SourceForge.net, the world's largest open source host. ZK has more than 1,500,000 downloads since its first release in late 2005. ZK is deployed by a large number of Fortune Global 500 companies, including Barclays, Societe Generale, Swiss RE, eBay, Roche, Deutsche Bank, Sony, Sun Microsystems, Audi, EMC and Toyota, providing them with the ability to rapidly create rich Ajax enterprise level applications.
Quire - a collaborative task management tool allowing users to plan and organize tasks in a tree-like structure. It is the most simple and natural way to manage your daily tasks, team projects where you can plan and organize your projects visually and collaborate with your team members in real time.