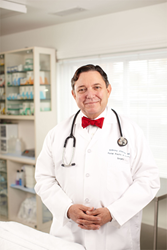 The University of Chicago has produced some of the best surgeons in the world, and it is my honor to act as a contributing educator to further the specialty to its present academic heights
NORTHFIELD, IL (PRWEB) October 23, 2014
Board-certified facial cosmetic surgeon and University of Chicago Medicine clinical professor of surgery, Dr. Anthony Geroulis, served as moderator on Saturday, October 18th for "Rejuvenation In The 21st Century: Aesthetic Cases Review." The plastic and cosmetic surgery cases reviewed were just one aspect of the many fascinating lectures of the day's educational program. Attendance was high with such academic leaders as Robert Kohut, Gregory Matz, Joan Zajtchuk and James Stankiewicz and the educational program was well received. A dinner was held in the Smart Museum on campus. The honored invited speaker was academic leader Joan T. Zajtchuk, MD, a distinguished alumna of the program, who gave a fascinating talk on her humanitarian experiences in the US Army and the use of Advanced Technologies in such endeavors. Dr. Zajtchuk recounted her days as resident and provided attendees with an account of her accomplished career both in the military and academia.
University of Chicago alumni were invited to join the lectureship and partake in the variety of otolaryngology lectures led by leading faculty and residents on topics ranging from rhinoplasty procedures to head and neck surgeries and cutting edge rejuvenation techniques. Several surgeons from other notable universities and hospitals were invited to speak in the panel discussions attended by faculty who are not only outstanding teachers but leading scientists and world famous clinicians. The University of Chicago otolaryngology residency-training program is well known for providing an outstanding clinical experience, and as part of the Pritzker School of Medicine, has long being recognized as one of the top medical schools in the U.S.
"It is an honor to participate in such an engaging and intellectually provoking agenda. The University of Chicago has produced some of the best surgeons in the world, and it is my honor to act as a contributing educator to further the specialty to its present academic heights," explained Dr. Geroulis.
For more information about Dr. Geroulis and North Shore Center for Facial Plastic & Cosmetic Surgery, the fully AAAHC-accredited private clinic which he directs, please visit http://www.geroulis.com or call 866.875.3937.
About Dr. Anthony J. Geroulis:
Bringing over 33 years of surgical and artistic experience to the field of facial plastic & cosmetic surgery, Anthony J. Geroulis, MD, FICS, has repeatedly been named a "Top Doctor" by U.S. News & World Report. Board certified in cosmetic surgery, author and active sculptor, Dr. Anthony Geroulis is a clinical professor of surgery at University of Chicago Medicine. His medical office is headquartered in Northfield, with offices in Chicago, at University of Chicago Medicine and at St. Alexius Medical Center in Hoffman Estates.