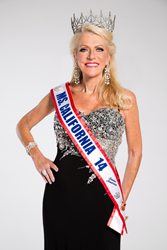 "My goal is to share with other women that we are never too old to have fun, encourage others and be leaders to women of all ages," Dr. Gayla Kalp Jackson
Moorpark, CA (PRWEB) October 23, 2014
Dr. Gayla Kalp Jackson a resident of Moorpark, California was crowned Ms. Senior California 2014-2015 this past August and will now advance to the Ms. Senior America Pageant in Atlantic City on October 26-30, 2014. Dr. Kalp Jackson competed against 13 other senior beauty contestants who came from all over California to win the crown of Ms. Senior California 2014-2015. The women competed in interview, evening gown and talent competition as well as reciting their philosophy of life.
The California delegation is the largest of the Ms. Senior America pageants in the nation. Dr. Kalp Jackson will now compete with 42 senior ladies coming from all over America who will be vying for the coveted title of Ms. Senior America 2014-2015 who have reached the "Age of Elegance" - 60 years of age and up. The Pageant seeks to elevate Baby Boomer women as well as senior women, encouraging them to "stay vital and connected with life", to be role models for their peers and younger generations.
"It has been a great honor to have won Ms. Senior California 2014", said Dr. Kalp Jackson. She continued, "I am looking forward to competing and representing the State of California at the National Pageant as my goal is to share with other women that we are never too old to have fun, encourage others and be leaders to women of all ages."
Dr. Kalp Jackson started her career as a professional actress and toured all over Europe with the American Theater Company. She then earned two Masters Degrees in Education and Psychology and a Doctorate in Business Administration. In her second career, she headed a successful international cable television management corporation and was named "Queen of Cable Television" by the National Cable Television Association. Her third career was with the Glendale Police Department as a psychotherapist working with gangs and troubled teens and she is currently on the committee for a new restorative justice program for the Ventura County prison system. Dr. Kalp Jackson is also involved in teaching parenting classes and providing psychotherapy to troubled families.
Dr. Kalp Jackson is extremely involved with various organizations and volunteers her time to the following organizations: Ventura County Youth Authority, by providing pro bono therapy; The Assistance League of Conejo Valley where she helps women and impoverished children, and the University of Southern California Trojan Club, which she is an alumnus. She also belongs to the Daughters of the America Revolution, Eastern Star, National Charity League, California Association of Marriage and Family Therapists and the National Psychotherapy Association. Dr. Kalp Jackson's hobbies include raising orchids, traveling around the world and throughout the USA with her husband. Her newest hobby is now competing in pageants to encourage women of all ages. Dr. Kalp Jackson is 67 years young, is married in a blended family and has one daughter and three step daughters and one granddaughter, and three step grandchildren.
Connect with Dr. Gayla Jackson, Ms. Senior California 2014 on social media Facebook Fan Page @Dr.GaylaJacksonMsSeniorCalifornia2014, Twitter @GaylaMsCA, Instagram @GaylaMsSeniorCA2014, and LinkedIN in @Gayla Jackson.
For media inquiries, interviews, and speaking engagement, please contact Kelly Bennett of Bennett Productions Unlimited PR/Marketing/Branding Kelly(at)BPUnlimited(dot)com or (949) 463-6383
Ms. Senior California of America, Inc. was established as a non-profit corporation in 2010 and is affiliated with Ms. Senior America, Inc., founded in 1971. For more information please visit http://www.MsSrCalifornia.com.