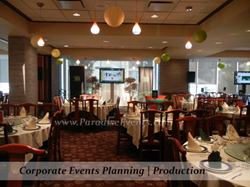 Paradise Events announced the launch of its innovative packages that will cater to Christmas parties
Vancouver, BC (PRWEB) October 25, 2014
Paradise Events, a Vancouver event production company, has recently announced the launch of its innovative packages that will cater to Christmas parties and other events. With the festive season just around the corner, people are getting ready to plan their gatherings. After putting together the party ideas, one would need to hire a production company that can share one's vision and bring those ideas to life. Paradise Events can make Christmas parties or any event successful.
Paradise Events has years of experiences in bringing their clients' Christmas party leads to life. The company has worked with corporate event coordination committees as well as event planners for office Christmas parties, New Year parties, staff-appreciated galas and other events. Paradise Events also offers customized services for product launches, promotions, theme parties and award winning celebrations.
Innovative Services by Paradise Events
Paradise Events offers professional services and works ethically while catering to the client's party ideas. Hiring a Vancouver event production company, such as Paradise Events, is like hiring a small army of specialty events industry elite. The company would provide maximum flexibility, including last minute changes. Since Paradise Events has an excellent track record with previous clients, there is an element of reliability and trust in the company name.
Paradise Events caters to the client's party ideas using the following services:
Audio and Visual: This package will include the sound man, audio visual technician, speaker rental, projector, projector screen and wireless microphone rentals. This is ideal for running presentations, videos, slides shows and product launch information.
Photo booth: This package adds a party flavor to the event and brings out a tone of fun. Paradise Events is well known for its high-end photo booth quality.
Green Screen Studio: This is the secret weapon for theme party ideas; the choice is up to 8 backgrounds, ranging from famous landmarks to movie themes. With green screen studio, imagination is the limit.
Red Carpet Celebrity Media Wall: This package makes a VIP grand entrance for the guests. The photography backdrop with the client company's logo is the same that can be seen at high profile Hollywood events. The complete package provides a custom media wall, plush red carpet, stanchion ropes, studio photography lighting and photographer.
Music Entertainment: The music entertainment package covers the DJ with an extensive experience of mixing songs for a variety of age groups and backgrounds. The DJ would make sure everyone has a good time on the dance floor.
Lighting Enhancement: Under this package, Paradise Events provides stage lighting and other customizable lighting enhancements. This is essential for an exciting aura and to enliven live band concerts.
Ambience Lighting: This package covers the wireless up lighting which creates the overall mood, as well as gobo projection lights to emphasize the company name or brand logo and theme.
About the Company
Started in 1998, Paradise Events is a full-time event production company that has been in business since the past 15 years. They worked as an onsite Production Company for Plaza of Nation in Vancouver downtown for 10 years. They also provide their services for major events like festivals (Du Mariner International Jazz Festival, Festival Latino, Great Canadian Pet Fair, TD Mid-Autumn Festival, Chinese New Year Festivals), media events, athletic events, fashion shows (Leone Fashion Show, Bear Wear, Cultural Wealth Young Designers of Vancouver, Face West Modeling Scout Show). They also work with wedding clients, corporate events, school dances and proms.
For more information, send an e-mail to info(at)ParadiseEvents(dot)com, call (604) 687-6200 or log on to http://www.paradiseevents.com.