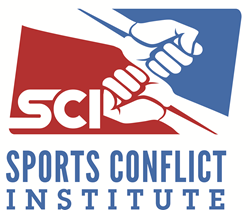 I think one thing we should think about doing is instituting a policy or bylaw that says for every dollar you spend on athletics, a dollar has to go back to the greater campus.
Portland, OR (PRWEB) October 23, 2014
"What's coming is further division," University of Nebraska Law Professor, Jo Potuto explains.
"…The Division I is going to be further subdivided," Potuto says. "So there will be some issues that are called autonomy issues that (schools) will be able to handle on their own."
Sports Conflict Institute's Josh Gordon highlights the big question being asked regarding this subject, "What are some of the issues in terms of autonomy versus some of the shared governance (issues) that help delineate where that line is?"
"Academic issues are in shared governance. They don't fall on the autonomy side," Potuto begins.
In terms of this delineation, Potuto points out the main concerns on the autonomy side being things that directly relate to student-athlete benefit. The big one right now is cost of attendance.
"…On the autonomy side, there will be the ability to move the scholarship limit up to the cost of attendance," Potuto says. "Another big issue surrounding this subject is the management of student-athlete time demands", in which Potuto states, "which actually, I think is the hardest to get one's arms around."
Dr. Ken Pendleton of Sports Conflict Institute provokes further questions regarding what the problems of the reinvention of the NCAA will be.
"One of them, from a process perspective is (that) I don't think the line between what is autonomy and what is not autonomy is as easily administered as it is to say it and I think that's going to cause process problems going forward," Potuto says.
"The schools on the autonomy side will be able to spend more resources in aide of student-athletes. The schools that are not on the autonomy side, who want to compete with the autonomy side are going to have to find funds to try to keep up with the Jones's. They don't have the funds now." Potuto admits.
"And so one looming issue is what the impact will be if more money is diverted to student-athlete interests…but as more money is diverted to student-athlete interests, where is the money going to come from?" Potuto asks.
Looking ahead, the biggest fear for college sports fans is the elimination of nationally competitive collegiate teams.
One might hope that with the redistribution of money, some greater restraint in terms of coach salaries and facility building might be taken into consideration.
Potuto states, "I think one thing we should think about doing is instituting a policy or bylaw that says for every dollar you spend on athletics, a dollar has to go back to the greater campus."
Agreeing with this, Gordon asks what the role of athletics on college campuses truly is and what it should be at a fundamental level.
"…Athletics has always been a part of the campus environment… and it creates an identity and a connection with the school that might otherwise not be there and might not be as strong," Potuto begins.
"Athletics has great value, I think, to the institution. Generally in terms of connectedness with its alums and with its mission. It has great value to the student-athletes who compete. And it brings in, on the academic side, sometimes some of the best performing students and it brings in an international component that we might not otherwise have. So it's a huge benefit," she continues.
But in a world where universities are facing budget cuts, faculty members aren't being hired, and fewer sections of courses are actually being taught, this brings up the question, 'is cutting some of the athletic opportunities for students any less appropriate than cutting an entire academic department?'
Ken Pendleton questions what's causing the monetary shortfall and the obstacles the NCAA is facing. "
"The anti-trust laws are a major obstacle," Potuto explains. "Anti-trust laws will not let you agree to cap coach salaries. And so we're in this race, however irrational it is, looking at it from a thousand feet up, that if you're going to hire a coach and we need to be competitive in a sport we're going to have to go spend money and hire a coach," she admits.
Questioning further, Gordon asks what would happen if the "market starts to shift because of the rules changing?"
"We cut in other places," Potuto admits.
"I think the issue here… is not an issue of how much money schools have, it's a distribution issue," she says.
Gordon questions "How, structurally, does it work at all to have compliance officers reporting within the athletic department?"
"The bulk of what compliance on campus does, has nothing to do with investigating violations, and certainly not major violations," Potuto explains.
"The problem is, you don't know it's a major case ahead of time until you're in it," Potuto says, "A lot of cases start with very little things, and then by looking at them closely you find other things."
"In a perfect world, the investigations would take place outside," Potuto admits.
According to Potuto, "the biggest challenge is democracy. We're not in a situation where everybody has a say."
Watch the entire interview. https://www.youtube.com/watch?v=nk0PUDgWBUo
SCI supports competitive goals in athletics through understanding, preventing, and resolving destructive conflict both inside and outside the lines. SCI serves as a knowledge center and provides a range of services to help ensure student-athlete experience is part of a healthy university culture while optimizing performance on and off the field of play. Conflict is inevitable, but how we respond determines whether success follows or costs mount. SCI Founder Joshua Gordon has over 20 years of conflict management experience.