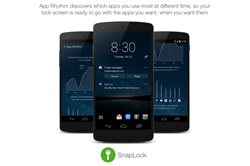 'Gorgeous. The design is brilliant. The ease of use is commendable.' - Google Play User Review
(PRWEB) October 24, 2014
Smartphones and the app revolution were supposed to make our lives easier, weren't they? But now the average Android user has 95 apps installed on her phone. She uses 35 of them a day, favoring different apps at different times*. How much time could she save if she didn't have to open her phone and search for the app she needs?
SnapLock's new App Rhythm feature discovers which apps a user needs most during 6 different phases of the day and arranges shortcuts on the lock screen. The lock screen is ready to go with the apps the user wants, when she wants them:
Two Examples:
Early Morning: A user awakes and her phone is ready with the apps she uses to start the day and commute to work: email, weather, news, and ebook apps.
Late Afternoon: As work winds down, a user's phone is ready with the apps she needs to plan her evening: dating app, restaurant ratings, maps, and ride booking--or maybe she'll just call it a night with the ebook app?
Whatever a user's rhythm, SnapLock makes it simple so she can live in the moment. The App Rhythm feature builds on the lock screen's other functions like notifications from desired apps and quick-reply for text messages. SnapLock is sleek, simple, and ready.
Get it now on Google Play: https://play.google.com/store/apps/details?id=com.wandoujia.roshan
*Source: http://thenextweb.com/apps/2014/08/26/android-users-average-95-apps-installed-phones-according-yahoo-aviate-data/