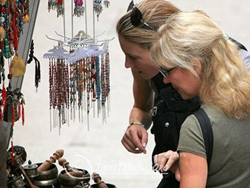 American tourists outpaced Germans and Malaysians, becoming the major force of inbound tourists in Tibet.
Lhasa, Tibet (PRWEB) October 24, 2014
According to the latest statistics provided by Tibet Tourism Bureau on Oct. 20, the largest number of inbound tourists visiting Tibet was recorded in June this year. On average, there were over a thousand foreign tourists that came and visited Tibet. On 10th June in particular, there were around 217 tour groups and over 1,588 foreign tourists who travelled in Tibet. Most of the foreign tourists came from the USA, Germany, Malaysia, Singapore, Australia, France, the UK, Japan, Netherlands, Nepal, etc., among which American tourists outpaced Germans and Malaysians, becoming the major force of inbound tourists in Tibet.
"It was amazing," said Andrzej Brozek, who came from Poland and was interviewed by Sara, a seasoned travel advisor of Tibet Vista. "Tibet is the first place my friends and I have visited in China, and we have seen Potala Palace, Jokhang Temple, Barkhor Street and we will be heading for Norbulingka Palace and Yamdrok Tso, one of the well-known sacred lakes of Tibet." Andrzej added.
Yangjuan, a guide of Shenjie Travel agency, told Tibet Vista that she has been organizing Japanese tourists, and during the peak season, she is busying handling Japanese package tours one after another and that she simply has not had a day-off.
Barkhor Street, one of the major tourist attractions in Lhasa, was dotted with boutiques and souvenir shops. Its source of revenue mainly came from worldwide tourists. A souvenir shop owner told to Tibet Vista, "Normally, Barkhor Street see growing tourists from June to September. Crowds of foreign tourists come and go. Exquisite hand-made Tibetan souvenirs are their favourite."
As increasing foreign tourists made a visit to Tibet, the beauty of Tibet could be better known to the world and the local economy could also be boosted by booming tourism.
About Tibet Vista
Tibet Vista, the top online Tibet tour operator, annually sends more than 2,000 individual travelers and over 100 tour groups to Tibet. It helps travelers to obtain the Tibet Travel Permit, book air/train tickets to Tibet and customize their tours.