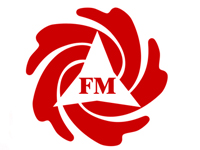 iAbrasive.com--a B2B webportal that is devoted to the abrasives industry.
Zhengzhou, China (PRWEB) October 24, 2014
On July 29, 2014, Shanghai Fermi Abrasives Co., Ltd. joined iAbrasive.com as a Verified Member. It has been nearly three months when Fermi upgraded to iAbrasive's Gold Member on Oct. 23. Fermi has completed the upgrading process, which signifies an important step towards the success on the road of abrasives foreign trade and lays the foundation of the long-term and mutually beneficial cooperation.
Fermi has experienced huge changes since its establishment in 2003. Let's have a look at its growing process:
On Apr. 15, 2003, Shanghai Fermi Abrasives Co., Ltd. was formally founded.
In Jan. 2004, Fermi established a strategic cooperation relationship with Chongqing SAMHIDA Grinding Machine Co., Ltd., indicating that Fermi had officially became the supplier for Chongqing SAMHIDA's abrasive belts. The cooperation between giants has greatly enhanced the quality of China manufacturing.
In Feb. 2004, Fermi was authorized by Germany VSM. So far, Fermi remains one of the VSM's agents in China.
In June 2005, Fermi built up a standard coated abrasives conversion plant that produced abrasive belts, abrasive discs, sanding bands, and flap wheels. The production of VSM abrasive belt adopted imported glue, which guaranteed the quality of VSM abrasive belts.
In Jan. 2008, Fermi received franchised dealer authorization of 3M (China) grinding products.
In Sept. 2009, Fermi passed the verification of abrasives processing and service ISO9001.
In Q3 of 2012, Feimi's flap wheels produced by automatic machines were sold to Europe and America.
On July 29, 2014, Fermi applied for and joined iAbrasive's Verified Membership, thus begn its online abrasives foreign trade.
On Oct. 22, 2014,Fermi upgraded to iAbrasive's Gold Member.
Fermi has gained multiple privileges after upgrading to iAbrasive's Gold Member. The company can post 500 products to increase exposure. The Gold Member icon is also eye-catching to foreign abrasives purchasers. In a most recent "Survey Report on Abrasives Buyers", iAbrasive finds out that most abrasives purchasers tend to choose the products of Gold Members' due to credibility. Besides that, the unique company image showcase and the specially designed have helped Fermi set up a good company image among abrasives purchasers. iAbrasive.com also offers content marketing service to help Gold Members better known so as to receive more inquires.
Fermi has been an excellent player in the abrasives industry, it is also active in international exhibitions and online webportals, such as Alibaba. The cooperation between Fermi and iAbrasive will help Fermi do better.
Author: Liwei Chu
Copyright: iAbrasive.com--Abrasives & Diamond Tools Market