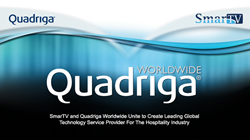 The combined company will focus on developing the most advanced hospitality entertainment solutions and services organization across the world, leveraging innovation, technology expertise and experience.
Theale, United Kingdom (PRWEB UK) 23 October 2014
Quadriga Worldwide, a leading international provider of guest technology managed services for the hospitality industry, and The SmarTV Company (SmarTV), an innovative software and hardware developer of interactive entertainment solutions for commercial and consumer markets, are merging to become a global guest technology and managed services provider to the hotel industry. The merged company's mission is to maximise guest engagement and satisfaction, enhance the HSIA and entertainment experience, and strengthen on-property value through increased revenue and operational efficiencies for hotels.
Operating under the Quadriga Worldwide brand name, the company will focus initially on North America, Europe, the Middle East and Africa where the group has existing sales and operational resources.SmarTV, which will rebrand as Quadriga Technology, will continue to provide world class technologies and products to enhance the overall Quadriga Worldwide brand with additional software development and hardware product innovation to deliver hoteliers an integrated platform that drives value through guest engagement. Utilising the strengths of both companies, the newly combined company can focus on developing the most advanced hospitality entertainment solutions and services organization across the world by leveraging innovation, technology expertise and experience, a well-established global distribution network and managed services capabilities.
With a combined R&D organization of over 60 professionals focused on delivering the latest technology, and drawing upon 30 years of serving the hospitality market, Quadriga Worldwide will offer hoteliers in all tiers of the market an integrated product line with greater user interface design flexibility, mobile and wireless solutions, better analytic and measurement tools, and advanced technologies for ease of streaming and consumption of content via guest-centric devices.
Both Quadriga and SmarTV have long recognized the need in the industry for companies to join forces to deliver scale and provide globally managed services and technology to hoteliers. "Both companies share similar core values, company missions, and industry goals, which make this union the perfect marriage," says Roger Taylor, CEO of Quadriga Worldwide. "Hoteliers are looking for an experienced and financially secure guest technology partner with the ability to give them market-leading, ROI-proven technology and unmatched service and support."
"Our strategic vision and operating plan is to become the premier global supplier of guest-facing hospitality technologies and services," says Seale Moorer, Chairman of SmarTV. "To that end, we will expand the group by developing additional products and broadening our managed service offerings. We will also make additional transactions resulting in better geographic market coverage and distribution. Our ultimate goal is to provide hoteliers with a single source for guest-facing technologies anywhere in the world."
The companies have executed the initial agreement and started integration planning. Seale Moorer will become Chief Executive Officer of the combined group and will focus on the overall group's vision and global presence in addition to driving the group's product development efforts. Roger Taylor will become Quadriga Worldwide's President and Chief Operating Officer focusing on the operational performance and growth of the group in all geographies. In addition, Nikki Beckett will join the Board of Directors as Chairman. Completion of the merger is scheduled for December 2014.
Ends
About The SmarTV Company, LLC
Based in the Westerville suburb of Columbus, The SmarTV Company is a software development, hardware design and manufacturing, and professional services firm that designs, builds, and implements solutions for the hospitality, healthcare, commercial and consumer markets. For the hospitality market, The SmarTV Company provides interactive guest entertainment solutions to enhance user experiences and engagement. At the core of every solution developed is a robust technology platform that uses open standards for rapid application development and seamless integration of multiple systems to create an engaging interactive experience for the end user. For more information, visit http://www.getsmartv.com.
About Quadriga
Quadriga is a guest technology managed service provider with 275 employees operating in the key strategic geographies of North America, Europe, the Middle East and Africa, supporting more than 300,000 guest rooms. At Quadriga, our success is driven and underpinned by our ability to react with speed and agility to client and market needs to enable us to truly realise our values of empowerment, trusting partnerships, customer excellence, entrepreneurship and ownership.
Through an ever-growing portfolio of products, services and content, proprietary to Quadriga or via 'best-in-class' partners, Quadriga provides customers with the flexibility and reassurance that they can obtain a complete and relevant technology solution that meets their business revenue, guest satisfaction and operational efficiency targets, all from a single, global partner.
Quadriga's range of TV and mobile communications platforms, easy-to-use guest Internet solutions, network management, consultancy and delivery services and multimedia content means it can work with its customers to converge today's disparate technologies to create a technology ecosystem that delivers unequalled guest service and hotel operational efficiency.
As the hospitality sector expands globally, Quadriga's global footprint extends across North America, Europe, the Middle East and Africa. This is being achieved through a combination of Quadriga's own operations and a distribution model into selected countries and territories.
The company will continue to leverage its capabilities, its partnerships and deep knowledge of the hospitality sector to create solutions that harness the latest technologies and meet ever evolving customer needs and guest expectations.
http://www.quadriga.com/
Press Contact
Vicky Daniels
Group Marketing Manager
Quadriga Worldwide Ltd
Telephone: +44 (0) 118 916 7181
Email: Vicky(dot)Daniels(at)quadriga(dot)com
Candice DeLuca
VP, Marketing & Communications
The SmarTV Company
Phone: 614.890.6101
Email: cdeluca(at)getsmartv(dot)com