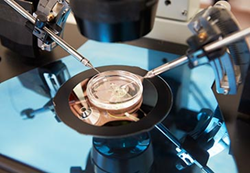 (PRWEB) October 27, 2014
Backed by the expertise of the internationally renowned in vitro fertilization specialists and the outstanding technological arsenal available at Herzliya Medical Center (Israel), the institution shoots out as a real watchtower over other medical centers of the kind. Merry medical statistics indicate that an impressive number of over 9000 babies have been conceived in vitro since Herzliya Medical Center opened its Department of In Vitro Fertilization in 1987.
Ever since, thousands of proud parents have been echoing word of mouth their satisfaction, which has raised a positive awareness and confidence in Israeli fertility treatments.
When a person faces infertility, just grab some hints on what one can expect by choosing Israel's top private hospital for an IVF treatment.
Reproductive medicine in Israel involves a complex system of comprehensive care, including:
o A wide variety of infertility diagnostic procedures - in most cases diagnosis proves to be the most intricate part of the treatment. Doctors at Herzliya Medical Center refrain from relying on external diagnostic results, which may be inaccurate or become invalid over time. The doctors take a fresh look at the case and they will start from scratch to evaluate the mental and physical condition on the spot. No need to shuffle in patient-packed waiting rooms any more, be it for lab tests or ultrasound imaging. The patient will be received and examined with exclusive care and discretion by means of:
o A close look at the medical history and lifestyle variables
o Physical examination to exclude infections, pelvic inflammation, endometriosis, tumors or fibroids in women, testicles and penis abnormalities in men.
o Blood and urine tests for measuring hormonal functionality and identify STDs along with semen test to check the count and motility.
o Imaging tests to pinpoint any blockage or structural defect.
o Experts at HMC intend to look for the least radical resources of treatment. What is on the table before IVF? Mostly hormone therapies can make changes for the better in mothers-to-be administered orally or injected, combined with either natural conception or artificial insemination. Quite often a minor operation clears the way for a natural conception.
o The high-tech hospital gives place to a special medical unit within the IVF department to tackle male infertility, the causes of which may diversify enormously – hormonal, physical obstructions, infections, neural dysfunctions. When it comes down to in vitro fertilization out of male reproductive disorders, Herzliya Medical Center excels in the latest technique denominated ICSI (Intra-cytoplasmic sperm injection), in which a single, well-selected sperm is injected into an egg and the embryo is transferred to the would-be mum's womb. So even if the sperm count and motility tests show discouraging results, the center's doctors will get the most and best out of the patient.
o With the motto of "the more natural, the better", the biggest-odds, but rather complex and heavily drug-assisted in vitro fertilization is always the last resort for doctors. If the patient is determined to fulfill heart's desire, let's face what awaits during the in-vitro process in Israel:
o Hormonal induced follicle stimulation to reach hyper-ovulation – drugs called Pregnil, Puregon or Gonal are applied for that purpose under stricly controlled conditions.
o Harvesting of eggs through transvaginal ovarian puncture.
o The fusion of the eggs and sperm happens in laboratory conditions, creating several viable embryos. This phase may take several days, as the doctors need to make sure of normal embryo development.
o Finally, one or several embryos are implanted into your womb after the endometrium has been properly prepared to receive it with a drug called Duphaston
o Utrozhestan is prescribed to maintain the luteal phase during pregnancy.
Radical and intimidating as it may sound, the high chance of parenting a child far outweighs all the associated physical discomfort and emotional ups and downs. So if the patient has been hesitant so far, it might be worth a second consideration and start to get some further info on your options of in vitro fertilization treatments in Israel. The patient should be prepared to find an incredibly controlled and sophisticated infrastructure, technical support and expert doctors: a healthcare system ready to live up to the highest international quality standards.