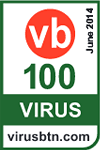 With no problems in the clean sets Agnitum earns another VB100 award, maintaining a strong record in the past year
St. Petersburg, Russia (PRWEB) October 24, 2014
Agnitum, the PC security experts, are delighted to announce another Virus Bulletin certification, this time – on Windows Server 2012. The tests were conducted in June 2014 yet the results were made official earlier this month. Outpost Security Suite Pro, ver. 9.1, wins Agnitum's virus lab the fifth award in a row (five entries — five passes).
Agnitum's lab, presently a keen contributor to the antivirus community and sample exchange programs, entered the big stage two-and-a-half years ago – and with tangible results. The engine has revealed solid performance on par with the industry leaders, outpacing seasoned competitors in terms of scan speeds and easy-of-use.
As always, the Virus Bulletin observers paid homage to Outpost's look and feel: "... the uncluttered interface fits in well with the standard desktop styling and looks good, providing decent configuration options with minimal confusion."
And, most importantly, the lab recognized Outpost's unfailing track record: "... the WildList sets were fully covered, and with no problems in the clean sets Agnitum earns another VB100 award, maintaining a strong record in the past year."
The anti-malware module in Agnitum's flagship product Outpost Security Suite Pro delivered flawless protection by detecting 100% of the samples from the main list and extended WildList collection, without a single false positive.
Agnitum's flagship Outpost Security Suite Pro includes:

Antivirus. Accurate detection and fast scanning speed.
Firewall. Safeguards a PC from hacker attacks and data leaks.
Proactive Protection. Blocks new and sophisticated malware even before an antivirus can identify it.
Mail Scanner. Makes sure a user's inbox is free from viruses.
Anti-banner. Filters webpages to improve browsing speeds and eliminate the unnecessary content on the web.
About Agnitum
Founded in 1999, Agnitum Ltd. (http://www.agnitum.com) has been committed to delivering and supporting high-quality, easy to use security software for 15 years. Agnitum's commercial solutions for the home market are Outpost Security Suite — an all-in-one Internet security solution, and the standalone Outpost Firewall Pro and Outpost Antivirus Pro, securing personal and family computers. Dedicated to global e-security, Agnitum also offers free versions of Outpost Firewall and Outpost Security Suite to secure users' system, network connections and critical data. Outpost Network Security ensures centrally-manageable endpoint protection and reliable performance for SMBs, and Outpost Antivirus Service provides antivirus protection via monthly subscription to ISP subscribers.
For more information and to request review copies of the latest Outpost Pro 9.1, please contact: