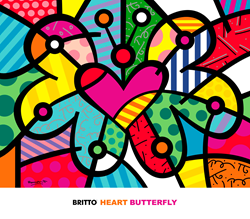 "As with all of my art, this collection was inspired by my love of life and I'm excited to be able to share this inspiration with others with McGaw Graphics' help." - Romero Britto
Sunderland, VT (PRWEB) October 28, 2014
McGaw Graphics, Inc., a leading worldwide art publisher, today announced the launch of a new 32-poster series licensed with internationally renowned pop artist, Romero Britto.
This new collection expands McGaw's previous Romero Britto offerings, which now includes 25 new images, including updated versions of the classic, best-selling posters, "The Hug" and "Heart Kids".
"I am thrilled to launch my 2015 poster series with McGaw Graphics," said Romero Britto. "I believe art is about inspiring others in positive ways, and as such it should be available and accessible to as many people as possible. As with all of my art, this collection was inspired by my love of life and I'm excited to be able to share this inspiration with others with McGaw Graphics' help."
"We are proud to make this new and updated poster collection by Romero Britto available," said George Yedinak, Interim CEO, McGaw Graphics. "This latest poster series brilliantly represents Britto's signature message of love and happiness. His work has always had a special place in the McGaw catalog and this newly expanded and updated collection further strengthens our relationship."
Romero Britto's 2015 poster series ranges in size from petite format (PF) (11x14") to oversize (36x48"). Custom sizing on paper is available upon request.
For more information and to view the complete collection or request a Britto poster catalog, please call (888) 426-2429 or visit mcgawgraphics.com. These posters will be available for retail purchase on mcgawposter.com.
About McGaw Graphics
Located in the heart of the Green Mountains of Vermont, McGaw Graphics is a leading art publishing company, providing high-quality art prints from over 200 artists, and more than 10,000 images. McGaw Graphics offers the most comprehensive museum collection with artists like Monet, Van Gogh, Degas and more modern masters such as Andy Warhol, Jackson Pollock and Mark Rothko, as well as various contemporary artists. McGaw Graphics posters are printed in the United States and sold worldwide.
About Romero Britto
Brazilian-born and Miami-made, Romero Britto is an internationally renowned iconic pop artist that uses vibrant, bold and colorful patterns to reflect his optimistic faith in the world around him. Romero's work evokes happiness and hope using a visual language all its own that is relatable to everyone. Self-taught at an early age, Romero painted on any medium he could find before coming into his own and traveling to Paris where he was introduced to the works of Matisse and Picasso, which influenced him to create an iconic style that The New York Times described as, "exudes warmth, optimism and love."
To date, Romero's work has been exhibited in galleries and museums in more than 100 countries, including the Salon de la Société Nationale des Beaux Arts exhibition at the Carrousel du Louvre in 2008 and 2010. In December 2013, Maria Elena and Carlos Slim Domit invited Romero to be the first living artist to exhibit at Museo Soumaya. He has created public art installations for the 02 Dome in Berlin, John F. Kennedy Airport, Cirque Du Soleil at Super Bowl XLI, and has been credited with the largest monumental sculpture in Hyde Park's history. Romero served as an official artist for the 2010 World Cup and was recently appointed Ambassador to the 2014 FIFA World Cup Brazil. Romero's pop sensibility has since leant itself to many collaborations with international brands such as Audi, Bentley, Coca-Cola, Disney, Evian, Hublot, Mattel, and Technomarine. Romero's work is full of life and a continuous expression of joy – Romero Britto's art is truly art for all!
McGaw Graphics Contact:
sales(at)mcgawgraphics(dot)com
888-426-2429
http://www.mcgawgraphics.com
Britto Contact:
Michelle Meier
M Silver, A Division of Finn Partners
Britto(at)finnpartners(dot)com
954.765.3636