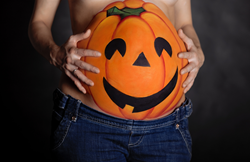 Irving, Texas (PRWEB) October 23, 2014
The American Pregnancy Association is launching a costume contest to help expecting mothers celebrate the holiday while recognizing their wonderful pregnant state. The purpose of the contest is to help mothers-to-be engage in the holiday celebrations with enthusiasm.
The last week of October is full of fall festivals, Halloween parties, and handing out candy to trick-or-treaters. Expecting mothers can enjoy these holiday celebrations more by wearing costumes that highlights their baby bumps.
The contest starts now and runs through Monday, November 3rd 2014. Contest categories include: mom alone, mom with child and tandem costume, and mom with partner and tandem costume. Contestants enter for free by posting their costume pictures on the American Pregnancy Facebook page.
A cash prize of $100 will be awarded to each category winner. Winners will also receive a six-part complete set of healthy mama products that address common concerns such as headaches, constipation, and heartburn. Winners will also receive a two bottle set Nordic Naturals DHA for adults and DHA for children.
Rachel Galatt, Founder and CEO, stated, "The mission of the healthy mama brand is to provide the safest remedies to expecting and nursing moms giving them peace of mind, convenience and health and wellness. We are excited to partner with the American Pregnancy Association costume contest that celebrates all the mama-to-be."
Halloween and pregnancy costumes are fun, festive and a great way to help expecting moms enjoy the holiday. More importantly, it is an opportunity to celebrate the joy and anticipation of a new baby. There is always the classic belly painted like a jack-o-lantern, but what about a Disney's Mike Wazowski painted belly which would allow the Monster's Inc. hero get the attention he craves? You can visit the American Pregnancy Association for additional costume ideas.
The Thanksgiving and Christmas holidays are right around the corner. It should not be hard to come up with themed costumes that tie in one of the upcoming holidays either – the more creative the better. Contestants are invited to visit the American Pregnancy Facebook page to learn more and stay up-to-date on the costume contest. Expecting mothers that participate in two or more different Halloween or fall festival parties and wear different costumes are welcome to enter as often as they like.