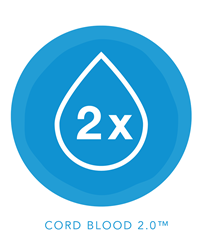 Americord can now preserve up to twice as many stem cells in cord blood with Cord Blood 2.0
New York, NY (PRWEB) October 24, 2014
Americord Registry announced today the launch of Cord Blood 2.0™, its innovative cord blood banking system that can collect and preserve up to twice as many stem cells as traditional cord blood collections.
"Traditional cord blood banking is outdated," said Americord CEO Martin Smithmyer. "Cord Blood 2.0™ for cord blood banking is truly revolutionary and enables parents to store enough stem cells to expand potential treatment options for their children."
The volume of stem cells preserved in traditional cord blood collection is only sufficient to treat patients up to 65 pounds. This is a "major limitation to the use of cord blood transplants in adults," according to the New England Journal of Medicine. The increased volume of preserved stem cells with Cord Blood 2.0™ enables larger patients to be treated while offering an expanded range of treatment options for smaller patients.
"I am proud to be at the forefront of cord blood banking technology," said Dr. Robert Dracker, the Executive Medical Director at Americord. "Cord Blood 2.0™ expands the treatment options and provides an immense measure of safety and security to expectant parents."
Cord Blood 2.0™ has a two-step process that begins with the use of Americord's innovative Gravity Stand™. The device uses the force of gravity to collect a significantly larger volume of cord blood from the umbilical cord and placenta. The harvested blood then undergoes a unique process at the Americord lab that extracts up to twice as many stem cells as currently available methods
"As a father, I am especially hopeful that there will be advances in stem-cell therapies that will help even more children in the future," said Mr. Smithmyer. "Americord is not content with the status quo and will continue leading innovations in the cord blood banking industry so we can continue to help parents and their children."
About Americord Registry
Americord Registry is a leader in the advancement of umbilical cord blood, cord tissue and placenta tissue banking. Americord collects, processes, and stores newborn stem cells from umbilical cord blood for future medical or therapeutic use, including the treatment of more than 80 blood diseases such as sickle cell anemia and leukemia. Founded in 2008, Americord is registered with the FDA and operates in all 50 states. The company's laboratory is CLIA Certified, accredited by the AABB and complies with all federal and state guidelines and applicable licenses. Americord is headquartered in New York, NY. You may visit Americord Registry's website at http://americordblood.com for more information.
Press Contact:
Raechel Sherwood
raechel(dot)sherwood(at)cordadvantage(dot)com
866-503-6005