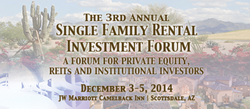 Chicago, IL (PRWEB) October 23, 2014
American Homeowner Preservation ("AHP") Founder and CEO Jorge Newbery will be a panelist at IMN's third annual Single Family Rental Investment Forum. This three day forum will run from December 3-5 and will be hosted at the JW Marriott Camelback Inn in Scottsdale, AZ. Newbery has participated in several IMN conferences, most recently serving as a Session Chair at the Crowdfunding Forum For Real Estate in September.
IMN's third edition of this conference will offer a plethora of new sessions, including topics such as Crowdfunding, Getting a Loan to Re-Perform, Lease Purchase and Rent to Purchase Options and Property Manager Selection. Newbery will be able to share some insight gained from his experience leading AHP, which crowdfunds the purchase of non-performing mortgage pools and offers viable solutions to struggling families.
"IMN has proven time and again their exceptional ability to orchestrate conferences that are both enjoyable and informative," Newbery said. "I look forward to the sharing of knowledges from many different experts about the trends and opportunities in the single-family rental market."
Investors, note buyers, private equity firms and real estate investment trusts are encouraged to attend. In 2013, the second annual Single Family Event drew a crowd of more than 850 executives and 140 speakers while providing 33 closed-door workshops and roundtables.
On December 4, IMN forum attendees can participate in the Single Family Golf Outing beginning at 12:45 pm at the JW Marriott Camelback Golf Club. All level of players are welcomed to participate. The forum will also include a luncheon featuring geography based roundtables (Arizona, Atlanta, The Carolinas Central/ Northern Florida).
To register for this event or to find more information, please visit: http://www.imn.org.
American Homeowner Preservation is a socially responsible investment fund manager which empowers accredited investors to purchase equity in pools of distressed mortgages and earn returns of 9-12%. For further information or inquiries please visit https://ahpinvest.com or call 800-555-1055.