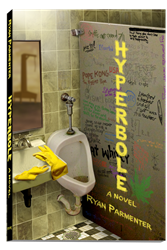 A truly exceptional work.
Detroit, MI (PRWEB) November 04, 2014
"Hyperbole is the most entertaining book I have read in a long time."
"Hyperbole" is the debut novel by Michigan-based author Ryan Parmenter. With over 85% 5-star reviews at Amazon.com, it comes highly recommended by readers who love a gut-punching laugh.
"[T]his was the most I've ever laughed out loud while reading a book in my entire life."
"One of the funniest books I've ever read."
The story follows a grumpy, disillusioned office worker in a United States where domestic terrorists are the biggest threat. Harland is in his mid-30's, cynical and going nowhere, and soon finds himself entangled in a terrorist conspiracy.
One reviewer comments: "The story is suspenseful and fast, but the characters are what makes this read so enjoyable." Others agree: "The characters are unique, vulgar, and highly memorable."
Multiple reviews have drawn comparisons between Parmenter's work and that of well-known satirists, noting "a style reminiscent of the best Chuck Palahniuk novels" and that "the not always pretty detail of the world reminded me of Vonnegut."
Readers have praised the combination of elements in the story. "This book was witty, dark, disturbing, believable, twisted and very imaginative all rolled into one book!" Multiple reviewers commented, "I didn't want it to end." And one put it bluntly: "Literary crack cocaine."
Parmenter, a writer and musician with a day-job, couldn't be more pleased. "It's so great to see the positive reactions from readers who have enjoyed the story," he said. "As a first-time author and publisher, it's a good feeling to know that other people are identifying with the weird thoughts in my head."
The themes and language in the book are intended for mature audiences only. "It's an extremely dark comedy," Parmenter said, "but there are some serious messages about hope and the importance of choice in there as well."
Readers may preview the book at no cost on Amazon.com. The eBook of "Hyperbole," compatible with Kindle and all readers with the Kindle app, is $4.99. Readers who subscribe to the Amazon Prime program may borrow and read the entire book without spending anything.
The "consistently hilarious and disturbing" novel is available in 3 formats: eBook, Paperback, and Unabridged Audiobook narrated by the author. All formats are available for purchase on Amazon.com, and the audiobook is also available from Audible.com and at the iTunes Store.
Read the book that others have called, "a truly exceptional work", "dark, sarcastic, cynical, and uniquely funny" with "laugh-out loud lines that seem to come without warning." Check out the preview at Amazon and get "Hyperbole" in your favorite format today. Readers who purchase the trade paperback from Amazon will receive a complimentary copy of the eBook for Kindle through Amazon's MatchBook program.
For more information, please visit author Ryan Parmenter's website at ryanparmenter.com.