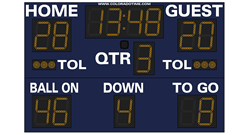 Loveland, CO (PRWEB) October 29, 2014
The Board of School Commissioners of Mobile County (AL) has chosen Colorado Time Systems to be the sole provider of scoreboards for their schools and recreational fields.
Football, basketball and baseball facilities throughout the county will be installing or upgrading to 2.4GHz integrated wireless scoreboards from Colorado Time Systems as early as December 2014.
"We are pleased to be part of the Mobile County community," said Anita Sayed, PlayCore Senior Vice President and Colorado Time Systems' General Manager. "It's important for the young athletes to have these scoreboards to further engage the spectators."
About Colorado Time Systems (CTS): Colorado Time Systems, a PlayCore company, has established a reputation for precision and innovation in swim timing equipment. Since 1972, premier aquatic facilities have chosen Colorado Time Systems for platinum quality timing, scoring and display systems. Learn more at http://www.coloradotime.com.
About PlayCore: PlayCore helps build stronger communities around the world by advancing play through research, programs, and partnerships. They infuse this learning into their complete family of brands. PlayCore combines best in class planning and education programs with the most comprehensive array of recreation products available to create solutions that match the unique needs of each community they serve. Learn more at http://www.playcore.com.