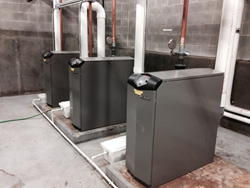 That's what energy efficiency is all about, finding an opportunity, making some relatively simple changes and then reaping the benefits for years to come-Jim Howard, Energy Source
(PRWEB) October 24, 2014
Providence, Rhode Island: When a heating system in a large facility like a hospital, hotel or office complex fails, standard operating procedure among most heating and air conditioning contractors is to simply replace the failed unit with a new one of similar specifications. However, a seemingly counter-intuitive approach of adding additional boilers is often a surprising solution that can lead savvy property managers toward significant reductions in energy costs.
Such was the case with Scituate Vista, a 75 unit housing complex serving primarily elderly tenants in Cranston Rhode Island.
That property is operated by National Investments Ltd, headquartered in Johnston, who recently partnered with Energy Source of Providence to explore energy conservation opportunities at the apartments.
Jim Howard ,the Energy Efficiency consultant who spearheaded the project for Energy Source, explained that it was during his heating efficiency audit that a major savings opportunity presented itself in the form of a failing boiler in one of the buildings.
"As one of two units serving the forced hot water heat to the tenants, there was no question it needed to be replaced. Property owners expect these things, they happen every day," Howard said. What they don't often expect is the recommendation that they not only replace one, but both units and that they add a third as well. But that is exactly what Howard proposed.
And he had the math to back it up.
By modifying the existing set up Energy Source determined they could provide the client with more heating capacity, while dramatically reducing consumption and related costs.
Howard pointed out that the existing 2 boiler set up was highly inefficient, not only from a mechanical point of view, but also the system design itself, which often required both boilers to fire at their full 1.2 million BTU's. The new highly efficient system implemented by Energy Source would utilize the first 700,000 BTU unit, fire the second only if needed and have the third as essentially a back up in the event of high demand or failure.
"That's what energy efficiency is all about, finding an opportunity, making some relatively simple changes and then reaping the benefits for years to come. It's very satisfying to apply cutting edge energy efficient technology that helps preserve natural resource while improving the bottom line for our customers, it's a classic win-win," Howard said.
Howard explained that most business owners can't find a reason to say no to Energy Source's proposals, whether on the HVAC side of the business or in their high efficiency lighting services. This is due in large part to Utility incentives which Energy Source specializes in securing on their client's behalf. Those incentives reduce or often eliminate capital outlay and generate a rapid payback.
In the case of Scituate Vista, Energy Source secured Incentives that will result in a simple payback of 5.4 years, saving 19,500 Therms of Energy each and every year and reducing heating-related energy costs by 30%.