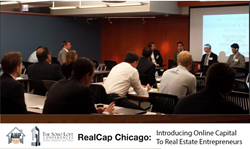 Chicago, IL (PRWEB) October 24, 2014
Chicago-based real estate crowdfunding platform American Homeowner Preservation ("AHP") will sponsor the upcoming second edition of RealCap Chicago: Introducing Online Capital to Real Estate Entrepreneurs. The single-day conference will be produced by the Soho Loft Media Group and will be held at One Financial Place in downtown Chicago on January 27, 2015. The event is expected to draw a diverse audience of real estate entrepreneurs, investors and professionals as well as representatives from the nation's leading real estate crowdfunding platforms.
Real estate crowdfunding leaders participated in September's inaugural RealCap Chicago and included panelists such as Jason Fritton, Co-Founder and COO of Patch of Land; Jordan Fishfeld or PeerRealty; and Jim Aldrich, CEO and Founder of PropFunds LP. In addition to delivering the keynote speech, AHP's Founder and CEO Jorge Newbery co-moderated the previous event with Soho Loft Chairman David Drake. AHP purchases pools of non-performing mortgages secured by assets nationwide and operates with the goal of keeping families in their homes. Additionally, AHP sells vacant, REO properties to new owners in order to stabilize communities. Newbery welcomes the diversity that each platform in the real estate crowdfunding industry brings to the table.
"Crowdfunding has really opened up opportunities, providing investors access to an assortment of deals such as residential fix and flips, ground-up development, or, with AHP, distressed mortgage investing," said Newbery. "Whether you are looking to find funding for your next real estate project, or learn about generating attractive investment returns, RealCap Chicago offers you actionable insight and knowledge."
For more information or to register for this event, please visit http://www.realcapchicago.com.
American Homeowner Preservation is a socially responsible investment fund manager which empowers accredited investors to purchase equity in pools of distressed mortgages and earn returns of 9-12%. For further information please visit https://ahpinvest.com or call 800-555-1055.