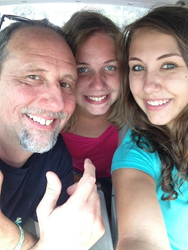 Hartford, CT (PRWEB) October 23, 2014
Russ Wilson was a person in long-term recovery from drugs and alcohol. He was a great father to his two daughters and had more than 7 years clean and sober. On June 28th, 2014, he lost his life suddenly at the age of 55 to a brain aneurysm.
In his honor, the Connecticut Community for Addiction Recovery (CCAR) is holding an essay contest. It was the brain child of his close friend, CCAR Executive Director Phil Valentine. "Russ was such an inspiration to those in the recovery community that we thought this would be a great tribute to him and his family", said Valentine.
The contest begins on November 17th, 2014, the day that Russ would have celebrated his 8th year of sobriety and runs through December 28th, 2014. You do not have to be a person in recovery to submit your entry, which should be 1,500 words maximum, preferably in a word document and double spaced.
Writers are being asked to think back on either their recovery, or the recovery of a loved one, reflecting on the transformation and maybe how this recovery transformed others. Or tell a story that epitomizes recovery.
Be sure to include your name, address and phone numbers in your e-mail or on your mailed document. An e-mail confirmation will be sent letting you know that your entry has been received. CCAR staff, Board members and their family members are NOT eligible.
You can either submit your entry by e-mail to: essayconstest(at)ccar(dot)us or you can mail your entry to:
Russ Wilson Essay Contest
CCAR
198 Wethersfield Avenue
Hartford, CT 06114
1st Place winner will receive a $500 cash prize, $200 for 2nd Place and $100 for 3rd place.
Previously published pieces WILL NOT be considered. Winning essays and parts of essays will be used by CCAR to promote recovery through social media, websites and printed material.
All submitted essays most be nonfiction. Void where prohibited by law. Entries will not be returned.
Since 1998 the Connecticut Community for Addiction Recovery (CCAR) has organized the recovery community (people in recovery, family members, friends and allies) to put a face on recovery and to provide recovery support services to help sustain recovery. By promoting recovery from alcohol and other drug addiction through advocacy, education and service, CCAR strives to end discrimination surrounding addiction and recovery, open new doors and remove barriers to recovery, maintain and sustain recovery regardless of the pathway, all the while ensuring that all people in recovery, and people seeking recovery, are treated with dignity and respect. CCAR envisions a world where the power, hope and healing of recovery from alcohol and other drug addiction is thoroughly understood and embraced. For more information, visit http://www.ccar.us.
# # #