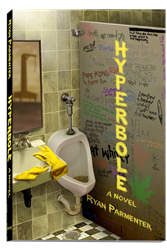 eBook promotion Oct 29 - 31
(PRWEB) October 28, 2014
Readers and reviewers are raving about the dark comedy of the novel Hyperbole:
"One of the funniest books I've ever read."
"the most I've ever laughed out loud while reading a book in my entire life."
"Hyperbole is the most entertaining book I have read in a long time."
Download the eBook of "Hyperbole" at no cost beginning on Wednesday, October 29th through Halloween, Friday, October 31st, exclusively at Amazon.com. This three-day promotion will allow fans of satire, mystery, and dark humor to read and keep a digital copy of the full book without spending anything. The eBook of "Hyperbole" works with Kindle and all readers and devices with the Kindle app.
"Hyperbole" finds a United States where Washington, DC has been completely wiped off the map. The power vacuum lures an array of competing forces. Meanwhile, acerbic narrator Harland is in his mid-thirties, disillusioned, and consuming intoxicants like there's no tomorrow. When he and his friends get their hands on a mysterious device used by an emerging faction of terrorists, hilarious chaos ensues.
"Hyperbole" is the debut novel by Michigan-based author Ryan Parmenter. The book is current available in three formats: paperback, audiobook, and eBook.
The novel explores philosophical questions about the state of humanity in the modern United States from the perspective of a vulgar but likable narrator. The dark comedy throughout "Hyperbole" is intended only for mature readers.
Rave reviews on Amazon.com note "a style reminiscent of the best Chuck Palahniuk novels" and that "Hyperbole is consistently hilarious and disturbing." 85% of Amazon reviewers have given "Hyperbole" 5 stars out of 5.
Parmenter commented, "Reader reviews are the best ways to inform new readers about great independent novels. This promotion will encourage new readers to check out the book and to post reviews to help 'Hyperbole' reach more readers who will enjoy it."
You can watch the tongue-in-cheek trailer for Hyperbole on YouTube.
Find more reader reviews of Hyperbole on Goodreads.com.
Please visit ryanparmenter.com for more information.