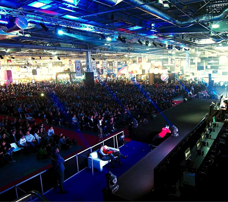 Lausanne, Switzerland (PRWEB UK) 27 October 2014
Bata Brands is thrilled to announce its sponsorship agreement with eXeS eSport, one of the most promising eSports teams in Europe, and for our company to be involved with the exciting world of professional video game competition, widely known as eSports.
eXeS eSport is a French Electronic Sports Association founded in 2008. eXeS eSport has four teams participating in popular games such as League of Legends, Counter-Strike, ShootMania and Call of Duty. The team finished second in the European Gaming League's EGL8 in 2012 and went on to win the EGL9 in 2013. That same year, they also won the Gears of War: Judgment Cup in France. In 2014, eXeS eSport won the EuroCup CS:GO and finished second at the Gamers Assembly and the Lanex 18. They will be participating in the 2014 Electronic Sports World Cup (ESWC) taking place in October in Paris.
Pierre Murbach, Brand and Digital Media Manager at Bata Brands in Switzerland, said "Video game culture has become more and more popular, showing a large increase in both viewership and prize money. eSports game tournaments are already selling out giant arenas, with some events attracting audiences larger than those for major traditional sporting events. More than 70 million people worldwide watch eSports over the Internet or on TV, according to estimates by SuperData Research (April 2, 2014). There are also TV channels devoted largely to eSports and the UK's first e-sports bar recently opened in London."
"As a major player in the world of fashion, Bata has always paid special attention to emerging trends, which influences the events and teams the company sponsors. Bata became an official sponsor of the FIFA World Cup in 1986, the year that included such memorable moments as Diego Maradona scoring the 'Hand of God' goal, as well as the 'Goal of the Century' against England. Today, Bata is again breaking new ground with its sponsorship of competitive gaming," added Pierre Murbach.
Founded in 1894, The Bata Shoe Organization is one of the world's leading manufacturers and retailers of quality footwear. With over 30,000 employees, 5,000 international retail stores, and a presence in over 70 countries, Bata serves some 1 million customers each day, offering an unparalleled combination of selection, value and service. For over 13 decades, Bata's mission has remained the same: to know its customers and create the best possible products to meet their needs.
For more Information, please contact:
Bata Brands SA
Email: communications(at)bata(dot)com
http://www.bata.com