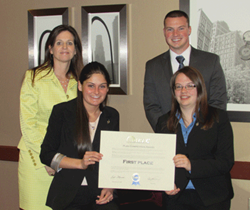 I think it is very important for us to give back to the kids today...Edward Skelly RFC, Competition Judge in Las Vegas
Middletown, OH (PRWEB) October 23, 2014
The National Financial Plan Competition challenges University students to construct a comprehensive financial plan utilizing a case scenario developed by the IARFC emulating a "real world" client profile. Plans are judged with the finalists presenting in person to a experienced panel in Charlotte, NC on April 29 - 30 of next year. To date, there are approximately 140 students registered representing 17 different universities. Participation is so beneficial to the students that a number of professors have made this competition part of their teaching curriculum.
Sponsorship of the competition is a way for established financial professionals to give back to the industry. Individual sponsorship levels are Silver $50, Gold $100, Platinum $250 and Diamond $500. Corporate sponsorships start at Silver $1000, Gold $5,000, Platinum $7,500 and Diamond $10,000. Corporate sponsorship will include a visible presence over various IARFC platforms including: the Register, Journal of Personal Finance, website, email blasts, media releases and social media.
"This is an excellent way to increase brand recognition while supporting the IARFC's mission," said Amy Primeau, Sponsorship Program Coordinator. "The IARFC is eager to work with companies either through existing IARFC programs or with programs tailored to a company's needs."
Along with becoming a 2015 sponsor, judges are needed for the Finals in Charlotte, NC. Finals Judge Edward Skelly RFC® relates his participation in the 2014 competition - "I was prompted to come as I was a sponsor for the event. I think it is very important for us to give back to the kids today. We are very fortunate to be in a great business and I wanted to pay it a little bit forward." The competition also provides avenues for CE events for professionals.
For more information on Individual and Corporate Sponsorships, visit the National Financial Plan Competition section on the IARFC website or contact Amy Primeau amy(at)iarfc(dot)org.