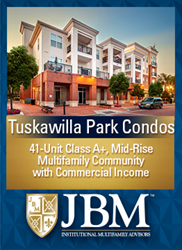 Tampa, FL (PRWEB) October 27, 2014
JBM™ launched to market Tuskawilla Park Condos, completed in 2009 and originally built to be luxury condominiums, Tuskawilla Park Condos is a conventional mid-rise, elevator-serviced apartment community with 6,377 square feet of cash-flowing ground floor commercial space. This trophy asset's apartment homes feature best-in-class, luxury finishes. The Property is a prime candidate for tremendous future rent growth. With no direct competition in the submarket, there is compelling support for further rent growth in a high-growth location.
The Property is centrally located in Winter Springs Town Center, a 148,000-square foot, suburban lifestyle center anchored by a Publix Supermarket. Neighborhood walkability is excellent as numerous restaurants and shops are at the tenants' doorsteps. Winter Springs Town Center is situated at the heart of City Town Center, a 340-acre, master-developed community which is the "downtown" of the city and expected to include 800,000 SF of retail, 600,000 SF of office and 700 hotel units. The development has been one of the most sought-after communities in Central Florida.
About JBM™ Institutional Multifamily Advisors
JBM™ Institutional Multifamily Advisors is the most reliable source of brokerage services in the institutional multifamily asset and investment industry with Florida offices located in Tampa, Orlando, and Naples. JBM™ specializes in the sale of high-rise, mid-rise and garden style apartment communities throughout the Southeast United States and focuses exclusively on asset disposition services, capitalization and recapitalization of existing and merchant development opportunities of large apartment type portfolios and singular assets for Domestic and Foreign Institutional, Private National and Regional clientele. The firm's collective team efforts have exceeded $8.9 Billion and over 102,000 apartment units listed, marketed and sold. The firm delivers a strong legacy of excellence in representation and the most effective investment sales platform throughout the Southeast United States, meriting Jamie May and JBM™ as a trusted leader in the multifamily industry.
If you would like more information about this property or to schedule an interview with Jamie May, Chairman & CEO or Eddie Yang, Principal and Executive Director please, contact Claudia Raines at 813.812.5003 or email. To learn more, please visit: JBM.com