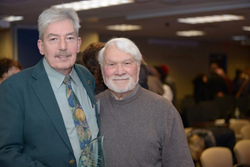 Hartford, CT (PRWEB) October 25, 2014
Background:
In 1998 Bob Savage founded the Connecticut Community for Addiction Recovery (CCAR). He is a pioneer in the field of establishing recovery community organizations. Bob had a 30-year career in Connecticut's state treatment system and when he retired, he set out to answer a couple questions that had nagged him while in public service.
1. Where are the people in recovery when we are making critical decisions concerning them?
2. Can the recovery community be organized to advocate for issues of importance to them?
Working from his home, Bob traveled all over Connecticut, speaking wherever he could to rally the recovery community. He began holding monthly Chapter meetings in Connecticut that ultimately evolved into CCAR. Bob was vital to the development of the recovery advocacy movement not only in Connecticut but nationally as well.
Purpose of the Award:
This award is in honor of Bob Savage's courage to speak frequently, energetically and effectively on behalf of people in recovery, their family members, friends and allies. CCAR seeks to honor an individual who has had a positive influence on key decision makers in Connecticut and has consistently advocated on issues of importance to the recovery community.
Criteria for Nominations:

Connecticut resident.
Demonstrated excellence in recovery advocacy.
The nominee is not required to be a person in recovery.
Outspoken on issues of importance to people in recovery, their family members, friends and allies.
Deadline for nominations:December 29, 2014
Click here for the nomination form
Note: CCAR Board members, staff, consultants and immediate family members are NOT eligible for nomination.
Submission information is indicated on the nomination form.
Winner will be announced at the CCAR Annual meeting to be held Wednesday, January 14, 2015 at the Connecticut Behavioral Health Partnership (CTBHP) 500 Enterprise Drive 4th floor, Rocky Hill, CT at 3:30 pm.