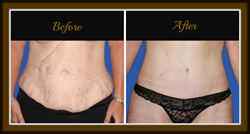 The extended tummy tuck is ideal for getting rid of the dreaded muffin-top, while creating an attractive waist line and flat stomach.
Newport Beach, CA. (PRWEB) October 24, 2014
As one of the top Orange County tummy tuck surgeons, Dr. Joseph T. Cruise has performed hundreds of abdominoplasty procedures (http://orangecountycosmeticsurgery.com/abdominoplasty/) ranging from mini, standard, extended and circumferential. In recent years, the mini and standard tummy tucks have been the most commonly performed by plastic surgeons. In an attempt to please the patient by performing a lesser surgery, the end result would often times be disappointing. Realizing this, Dr. Joseph T. Cruise set out to change the way patients viewed tummy tuck procedures. He now provides a 3-D evaluation and detailed outline of how the entire body will look with each tummy tuck option.
"As a plastic surgeon it is my duty to recommend the tummy tuck option, which is best suited for the individual patient, regardless if that means telling them something they may not want to hear. The ultimate goal is to perform the tummy tuck procedure that will yield the highest return for the patient," express Dr. Cruise.
To learn more about abdominoplasty (tummy tuck) options, please visit:
http://orangecountycosmeticsurgery.com/abdominoplasty/
Dr. Joseph Cruise strongly believes patients will obtain a far superior result with an extended tummy tuck compared to a standard tummy tuck when muffin-top, stretch marks or skin laxity are present along the hips. While the standard tummy tuck is the most commonly performed, the results are typically not up to par with patient expectations. Unfortunately, many plastic surgeons have been primarily utilizing this procedure, because patients tend to be fearful of the extended incision required with an extended tummy tuck. This ends up being a catch 22, because performing a lesser surgery than needed, will almost always result in an unhappy patient.
Orange County tummy tuck patients visiting Cruise Plastic Surgery will now have a more comprehensive outline, including before and after photos, demonstrating what each type of tummy tuck procedure can and cannot do. Patients will also be evaluated from a three dimensional perspective as opposed to the more standard one dimensional approach.
Dr. Joseph Cruise highlights some of the main points between the extended tummy tuck and standard tummy tuck.
He explains that most of his Orange County tummy tuck patients complain about their muffin-top and want it gone, which is one of the main benefits of having an extended tummy tuck versus a standard tummy tuck. In addition, a large majority of patients have stretch marks over the hips, skin pinch greater than 3 inches, and no curve to their waist. A standard tummy tuck requires an incision the length of the the tummy, which does not allow for these issues to be corrected. The extended tummy tuck requires an incision extended 6-8 inches to the back of hip and will allow the surgeon to effectively improve all of the aforementioned issues.
Advantages of the extended vs. standard tummy tuck.
1) Standard tummy tuck in these patients gives the strange appearance of a tight stomach, but very wide hips, often with a "dog-ear" effect. The loose skin over the hips is actually exagerated making muffin-top worse than before surgery. Patients will still be unable to wear tight jeans without muffin-top being obvious and exaggerated.
2) Extended tummy tuck removes the muffin-top and achieves better overall proportion, because patients will have a flat stomach and waist. It creates an attractive curve to the waist line, as well as more latitude with clothing and bathing suits.
3) Better scar. Dr. Cruise explains that while the incision is extended, the mechanics of the operation are such that the incision can be made lower. In addition, it allows the length of the upper incision to better match the length of lower incision. This allows the incision to be closed without rippling that is a common complaint with a standard tummy tuck.
About Cruise Plastic Surgery:
Cruise Plastic Surgery, located in Newport Beach, Orange County, California, is one of the top plastic surgery practices in the Southern California region. The director, Dr. Joseph T. Cruise, is a fully trained, board-certified plastic surgeon specializing in facelift, breast augmentation, tummy tuck and other cosmetic surgery procedures. Dr. Cruise is also one of the region's best known surgeons for rhinoplasty (nose surgery), neck lift surgery and gynecomastia. His dedication and focus is clearly evident in the comprehensive educationally based web site he manages and the concierge-like customer service his patients receive from the entire office. Experience and predictably good results have earned him the distinction of being one of the best plastic surgeons in Orange County.