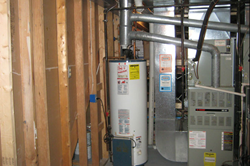 Clifton, New Jersey (PRWEB) October 28, 2014
Jersey Home Renovations, a professional plumber in New Jersey, has released some important tips for homeowners to follow for the upcoming winter.
When it comes to the plumbing inside your home, as homeowners, we usually wait until it is too late to check our pipes and sewer lines. However, it is not always the easiest situation to figure out ahead of time. Our lifestyles are busy and overscheduled and homeowners may not be fully educated. That's why Jersey Home Renovations & Plumbing has offered information and education about what these potential issues mean.
Plumbing Issue: Whenever the toilet is flushed, the shower water instantly becomes either very hot or very cold.
What does this mean for a homeowner? Both the hot and cold water lines are run into one pipe, supplying a shower with a mixture of the two to create an enjoyable shower temperature. However, when a toilet is flushed, the cold water line is attempting to supply more than one fixture, causing it to divert some of the cold water supply from the shower to the toilet. This can also happen with hot water, if the washing machine is working while the homeowner is showering. A plumber is able to fix this situation replacing the basic shower valve with a new pressure balance shower valve, which regulates the water temperature to a more consistent basis.
Plumbing Issue: The shower head has a very low pressure and very little water flowing out of it.
What does this mean for a homeowner? The shower head jets head might have calcium deposits or other gunk blocking them that have been building up over the years. The best bet would be cleaning them by placing a bag of vinegar and water over the shower head to soak, or replace the shower head completely.
Jersey Home Renovations & Plumbing wants to make all homeowners aware of all potential issues when it comes to their plumbing, especially for this upcoming winter.
For more information and tips, please contact Jersey Home Renovations & Plumbing at http://www.jerseyhomerenovations.com