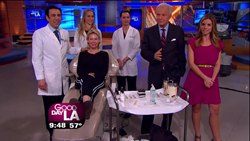 Los Angeles, CA (PRWEB) October 23, 2014
On October 23, 2014, ABC News published an article titled "Dubai Cuts Profile as Mideast Plastic Surgery Hub" that reports on Dubai's plans to become the top international destination for medical tourists. In 2013 nearly 120,000 medical tourists visited Dubai, a 12 percent increase over 2012. The Dubai Health Authority hopes to bring that number to half a million tourists annually by 2020 with projected revenue of $710 million. Worldwide, medical tourism is currently a $50 billion to $60 billion a year industry and is expected to grow to $100 billion annually over the next decade. (see: goo.gl/vwpuZz)
"In our Beverly Hills clinic we treat many patients that fly in from the Middle East, so I certainly have an understanding of medical tourism," says Dr. Ourian, Medical Director of Epione Beverly Hills.
According to the ABC News article, Dubai has introduced three-month renewable visas specifically to cater to medical tourists and their families. Dubai has also launched an advertising campaign in an attempt to brand itself as the Middle East's premier destination for plastic surgery and wellness. In short order Dubai has become saturated with plastic surgeons, with 52 plastic surgeons for every 1 million people. By comparison, the ratio in the U.S. is 20 plastic surgeons for every 1 million people.
"First and foremost, patients need to be responsible for their own safety and this task can be complicated when one travels to another country for a procedure," says Dr. Ourian. "I'd advise anyone interested in medial tourism to thoroughly research their options, keeping in mind that their well-being should be at the top of the list."
Dr. Ourian has been a pioneer in laser technology and non-invasive aesthetic procedures including Restylane, Juvéderm, Radiesse, Sculptra, and CoolSculpting. These treatments are used for the correction or reversal of a variety of conditions such as acne, acne scars, skin discoloration, wrinkles, unwanted fat, stretch marks, varicose veins, cellulite, and others. More information about plastic surgery can be found on Epione's website.