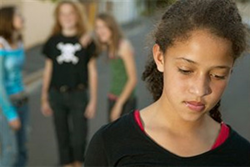 Washington, DC (PRWEB) October 28, 2014
For many years, bullying has been very common among adolescents. Only now with technology the way it is, parents and kids need to worry about different types of bullying spanning beyond just in schools. The following are some ideas on how to help your child become bully proof:

Raise your children to be confident in themselves
For younger children, keep a watchful eye but allow and guide them on how to handle conflict in social settings.
Children should be socialized early to allow their social behavior skills to grow and learn as they do.
Introduce your child to different groups, settings and activities.
Find an outlet that supports your child's uniqueness.
Teach children it's ok to play and tease as long as it's not hurtful.
Teach young children and teenagers appropriate coping skills.
Empower children to manage anxiety.
Make sure your child has strong, close family to encourage and support them.
Keep an open dialogue with your child so they know they are free to talk to you about anything.
Keep a watchful eye on the activities of older children on the internet. Often times they become involved with groups or situations that could lead to online harassment or bullying.
Allow children to do things they like as long as it's not harmful to their well being.
Be a good role model for your children and an example they can follow.
For more information on this and related topics, please visit Dr. Sanjay Jain's website at http://www.sanjayjainmd.com/.
About Dr. Sanjay Jain:
Sanjay Jain, M.D. MBA is a New York Times and USA Today Best Selling author, accomplished medical doctor, health expert, life coach and inspirational keynote speaker who has dedicated his life to helping people find their purpose by achieving a meaningful life that they deeply cherish.
Sanjay Jain is U.S. trained and a board certified physician with over 15 years of clinical experience. He holds certifications in Diagnostic Radiology, Integrative Medicine, and Healthcare Quality and Management. He is a graduate from the accelerated BS/MD program at The Northeast Ohio Medical University. He has diversified experience in the private practice, academic, and integrated multispecialty settings.
He was a former assistant professor at The Ohio State University where he also obtained his MBA at the Fisher School of Business. The combination of which has given him a unique voice and understanding of the many issues we face today in a real and practical sense.
Follow Sanjay on Twitter at @sanjayjainmd. His new book, Optimal Living 360: Smart Decision Making for a Balanced Life (Greenleaf) is available in stores now.