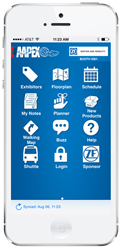 Attendees can go to the New Products section within the app to view new featured products and use the Walking Map to find these exhibitors on the Expo floor.
Columbia, MD (PRWEB) October 24, 2014
a2z, Inc., the Maryland-based event management software company, is pleased to announce that the Automotive Aftermarket Products Expo (AAPEX) is offering a suite of a2z-powered ChirpE solutions to attendees and exhibitors for AAPEX 2014 – an annual expo for professionals in the automotive aftermarket industry. AAPEX is slated for Tuesday, Nov. 4 through Thursday, Nov. 6, at the Sands Expo Center, Las Vegas, Nev., with AAPEXedu sessions starting on Monday, Nov. 3. The ChirpE suite of solutions being utilized at AAPEX 2014 includes the ChirpE eBooth promotion Widget, ChirpE native mobile app, and ChirpE onsite locator stations.
The ChirpE eBooth promotion widget offers exhibitors of AAPEX 2014 an online tool for engaging clients and prospects before the Expo starts. The widget allows exhibitors to promote their eBooth on their websites so that attendees can have easy access to their company information, the event website, and even register for the event. Exhibitors utilizing the eBooth promotion widget can increase their event ROI and collect valuable pre-show leads. Exhibitors can access their widget from the AAPEX 2014 exhibitor console.
In addition, AAPEX is providing the ChirpE mobile app solution to enhance the attendee experience. When attendees download the mobile app, they will have access to many features designed to increase their efficiency while at AAPEX 2014. Attendees can use the personalized planner to keep track of their onsite meetings and selected AAPEXedu sessions. In addition, attendees can go to the New Products section within the app to view new featured products by select exhibitors and use the Walking Map to find these exhibitors on the Expo floor. The AAPEX 2014 mobile app is available for iOS and Android devices as well as all internet-enabled smart phones. This year the mobile app is sponsored by ZF Services.
While at the Expo, attendees can use one of the ChirpE Locator Stations available across the expo floor for a quick and easy way to search for exhibitors, products, brands, and sessions by keywords or categories. The user's location will be identified and a route to their favorite exhibitor or session will be provided. In addition, attendees can access their personalized planner and update their favorite lists and itineraries in no time.
AAPEX 2014 is a four-day event expected to feature more than 2,400 exhibitors, 5,000 booths, nearly 50 AAPEXedu sessions and 39,000 targeted buyers. More than 130,000 automotive aftermarket professionals from nearly 125 countries are projected to be in Las Vegas during AAPEX. To learn more about AAPEX 2014, please visit http://www.aapexshow.com.
About a2z
a2z, Inc. provides powerful web-based event management tools that grow your show by increasing and accelerating booth sales, helping boost revenue, and enhancing engagement and value for everyone. a2z, Inc. powers more than 850 leading events every year. Our clients benefit from increased connectivity with their audience via an improved website for their attendees and exhibitors and both web-based and native mobile app solutions. a2z offers three platforms as one integrated solution: Expo & Conference Management, Networking & Lead Management, and ChirpE Mobile- which includes our web-based and native mobile apps for smart phone and tablet device.
About AAPEX
AAPEX represents the $477 billion global aftermarket auto parts industry, and is jointly sponsored by the Auto Care Association and the Automotive Aftermarket Suppliers Association (AASA), the light vehicle aftermarket division of the Motor & Equipment Manufacturers Association (MEMA). For more information, please visit http://www.aapexshow.com or e-mail: info(at)aapexshow(dot)com.