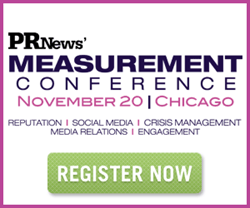 New York, NY (PRWEB) October 25, 2014
PR News is scheduled to hold a PR Measurement Conference on November 20 at the Hyatt Regency in Chicago, where attendees will learn the newest best practices in measuring social media engagement and tying PR to the bottom line. Attendees will attend sessions on: How to Tie PR to Sales, Trends in Measuring User Engagement in Social Media, and more. By registering before October 30, attendees will save $100 off the registration rate with the Early Bird discount.
View more information here: http://www.prmeasurementchicago.com/measurement-conference-agenda.
Measurement Conference speakers include Inga Starrett, senior vice president, measurement & analytics at Weber Shandwick; Sandra Fathi, founder and president at Affect; Dwayne Roark, director, global business communications, The Dow Chemical Company; Serena Ehrlich, director of social media at Business Wire; David Rockland, Ph.D., managing director, global research at Ketchum; and more. Participants will be trained in an array of key measurement skills that can be put to use right now and in the years ahead – from building a measurement dashboard to then using this data to assess the effectiveness of a communications strategy.
Register now at http://www.prmeasurementchicago.com/. The Early Bird rate ends October 30. One- and two-day passes are available, as well as group rates for registration.
Presented by the industry's most trusted PR and marketing brand, these events will fill up quickly. To view the agenda for the Measurement Conference, visit: http://www.prmeasurementchicago.com/measurement-conference-agenda/, and view the agenda for the Writing Boot Camp here: http://www.prmeasurementchicago.com/writing-boot-camp/. For questions regarding registration, contact PR News' Rachel Scharmann at rscharmann[at]accessintel[dot]com.
PR News is a daily intellectual hub that serves the communications and marketing community at corporations, agencies and nonprofits. The PR News group focuses on honing and growing PR practitioners' skills in social media, crisis management, digital PR, measurement, employee relations, media training, CSR and writing through its flagship newsletter, webinars, conferences, awards programs, workshops and guidebooks. With the launch of its weekly newsletter over 70 years ago, PR News has remained dedicated to supporting the growth of communicators all while keeping them abreast of the latest news affecting the industry. For more information, please visit http://www.prnewsonline.com.