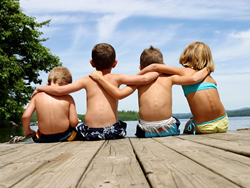 Washington, DC (PRWEB) October 28, 2014
Respect is the very foundation for a great relationship. This also means respecting oneself and others. Relationships of all kinds are often perceived as very delicate things, which require extra effort to maintain. However, a relationship can also be something that can provide security and can be long lasting despite many trials. In celebration of National Work and Family Month, Dr. Sanjay Jain has offered a few ideas from his new blog post on creating great relationships.
Building an effective and lasting relationship is a necessity for several reasons. For example in a group or organization, the well being of the people depends on how efficient and effective that group or organization works. The group or organization is also dependent on how the members work well with the management.
An ineffective group or organization can really be very frustrating. An effective group or organization can also ask so much on their members, that sometimes the members would be having no life outside the walls of the area where they work or sacrifice the other aspects of their life just to meet deadlines. For an organization or group with this kind of scenario, relationships can be stressed or suffer from breakdown.
Society is defined as a web of relationships, which requires all parties to work and contribute their share in order to achieve a common goal. Having a relationship that is good, where cooperation and respect are manifested, can make society work better. In this way each member works for the good of the whole and towards achieving a common goal. This can only be attained with effective and efficient relationships.
Understanding the other parties' feeling and position creates an effective and efficient relationship. The easiest method to understand what is important to another party is to ask them what they want and listen to what they have to say. When the other party realizes this, they would feel the importance given to them.
Effective and efficient relationships require everyone to openly express their feelings and positions on all matters pertinent on the relationship. Assuming that the other party understands our needs and give us when we need it without asking for it is not a good practice.
Respect is the key to relationship. In order to create a more effective relationship, parties should treat each other with respect. We can show respect just by listening to the other party and by trying sincerely to understand how they function. You can also show respect to other parties by confirming that they are doing everything they can.
Another key area in forming an effective relationship is to tackle differences of the other party directly. Differences between parties or people are quite interesting. Work towards a win-win solution for both parties.
Relationships are important to anyone, addressing issues and problems right away is a must to further improve the relationship. As they say 'No man is an Island'.
For more information on this and related topics, please visit Dr. Sanjay Jain's website at http://www.sanjayjainmd.com/.
About Dr. Sanjay Jain:
Sanjay Jain, M.D. MBA is a New York Times and USA Today Best Selling author, accomplished medical doctor, health expert, life coach and inspirational keynote speaker who has dedicated his life to helping people find their purpose by achieving a meaningful life that they deeply cherish.
Sanjay Jain is U.S. trained and a board certified physician with over 15 years of clinical experience. He holds certifications in Diagnostic Radiology, Integrative Medicine, and Healthcare Quality and Management. He is a graduate from the accelerated BS/MD program at The Northeast Ohio Medical University. He has diversified experience in the private practice, academic, and integrated multispecialty settings.
He was a former assistant professor at The Ohio State University where he also obtained his MBA at the Fisher School of Business. The combination of which has given him a unique voice and understanding of the many issues we face today in a real and practical sense.
Follow Sanjay on Twitter at @sanjayjainmd. His new book, Optimal Living 360: Smart Decision Making for a Balanced Life (Greenleaf) is available in stores now!