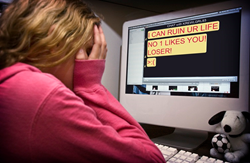 Washington, DC (PRWEB) October 28, 2014
Bullying has changed over the years, it's no longer the big, mean kid in the playground. Today's computers, internet and other technology have introduced a new kind of bullying.
Cyber bullying is a relatively new issue. Kids use computers, cells phones and other modern technologies to harass or threaten others. Cyber Bullying can include a verbal harassment or threatening that occurs amongst each other while on the internet. Included in this can be emails, instant messages, text messages or posting on social media platforms, what makes this type of bullying more invasive and intrusive is no face to face threatening happens, it generally happens in the comfort and safety of your own home.
The effects of cyber bullying can hurt and hurt quickly. There have been numerous stories in the news of children, teens, and young adults who have been driven to suicide or violent crime as a result of being bullied online. While these tend to be the more extreme cases, it can have a serious detrimental effect on a victim's self-esteem, emotional well-being, and sense of personal safety. Many people do not realize the extreme effects that cyber bullying can have on children and teens.
Parents need to take an active role concerning the safety of their children. Just as a parent would guard their children again a physical predator, the same hold true for cyber safety. Parents need to monitor their child's activity on the internet, be aware of what they do, where they post, who they talk to and how they talk to them. Parents should make their children aware that while they respect his or her privacy, his or her safety is their main concern.
Make sure children know about cyber bullying, how it happens and often why it happens. It will go a long way in monitoring children's activity. Set boundaries with children, let them know if one suspects something is wrong, review his or her text messages, emails or social networking sites and internet activity. It is important to have an open dialogue with them to ensure their cyber safety. Talk to children, make sure they are OK, and make sure they know the parent is on their side.
In the end, the important thing is to guide our children and steer them away from any potential dangers that may exist.
For more information on this and related topics, please visit Dr. Sanjay Jain's website at http://www.sanjayjainmd.com/
About Dr. Sanjay Jain:
Sanjay Jain, M.D. MBA is a New York Times and USA Today Best Selling author, accomplished medical doctor, health expert, life coach and inspirational keynote speaker who has dedicated his life to helping people find their purpose by achieving a meaningful life that they deeply cherish.
Sanjay Jain is U.S. trained and a board certified physician with over 15 years of clinical experience. He holds certifications in Diagnostic Radiology, Integrative Medicine, and Healthcare Quality and Management. He is a graduate from the accelerated BS/MD program at The Northeast Ohio Medical University. He has diversified experience in the private practice, academic, and integrated multispecialty settings.
He was a former assistant professor at The Ohio State University where he also obtained his MBA at the Fisher School of Business. The combination of which has given him a unique voice and understanding of the many issues we face today in a real and practical sense.
Follow Sanjay on Twitter at @sanjayjainmd. His new book, Optimal Living 360: Smart Decision Making for a Balanced Life (Greenleaf) is available in stores now!