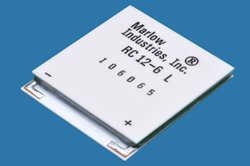 II-VI Marlow values our modern nation's commitment to technology, a foundation that supports our economy and our society as a whole.
Dallas, TX (PRWEB) February 25, 2015
Dallas-based thermoelectric solutions manufacturer, II-VI Marlow, features a refreshed website to showcase the scope and breadth of the company's leadership position in thermoelectric technology.
As a global leader in thermoelectric heating and cooling technology, II-VI Marlow values a modern nation's commitment to technology, a foundation that supports the economy and society as a whole.
With this commitment in mind, Marlow's brand new site highlights and educates the impressive functional solutions that thermoelectric heating and cooling provides, from enabling vehicles to capture heat waste for reuse as electrical power, to stabilizing the temperature shifts of space so that the Hubble telescope can capture clear images of the stars and galaxies across the distant universe.
II-VI Marlow has worked at the edge of technological innovation in emerging markets over the last three decades, including: Telecommunications, Medical, Automotive, Gesture Recognition and Aerospace & Defense. Winning several awards along the way, including the Malcom Baldrige National Quality Award, the organization is currently working with Fortune 100 companies to develop thermal solutions for the consumer market, from product displays to personal climate-controlled beds, beverage chillers and more.
Advanced experience in engineering and manufacturing is valuable to our customers because II-VI Marlow can quickly and expertly oversee the customization of each product, partnering with clients through all stages of the design process, from conceptualization, through production manufacturing and Ongoing Reliability Testing.
The new site reflects this flexibility allowing businesses to readily search for, and identify, turnkey solutions such as thermo-cyclers and power generators, or to investigate II-VI Marlow's engineering and manufacturing capabilities when they require a tailor-made solution to exact specifications and highest quality standards.
Engineering and manufacturing visitors to our new website will experience our commitment to sharing research, educational resources, our Technical Library and recurring blogs from the II-VI Marlow engineering staff.
II-VI Marlow's motto, as has always been, is to: do the job "right today, better tomorrow."
To discover the full range of II-VI Marlow's engineering capabilities, visit http://www.marlow.com/
Media Contact: Anna Lee Friesen, 214-342-4250, annalee.friesen(at)ii-vi(dot)com