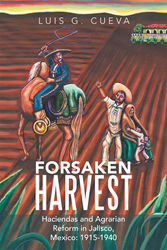 The research for Jalisco has wider implications regarding global hunger and malnutrition.
ENCINITAS, Calif. (PRWEB) October 24, 2014
According to one expert on global hunger, the birthplace of tequila and mariachi holds clues for forming new economic structures in developing nations.
In his new book "Forsaken Harvest," Luis G. Cueva, a professor specialized in history and Latin American studies, shows how conditions of hunger and poverty can evolve through a historical account of the state of Jalisco, Mexico.
"The research for Jalisco has wider implications regarding global hunger and malnutrition," Cueva said. "Its model for establishing a sustainable and resilient small farming system is applicable to underdeveloped nations with large peasant populations."
His book explores the evolution of a regional socio-economic structure in Mexico that promoted urban industrial development at the expense of the rural poor.
Its findings reveal insight into international issues including small farmer development, the model of peasant cooperatives and establishing economic and political stability.
"Forsaken Harvest" also provides a glimpse into the rich history, culture and traditions of Mexico.
For more information, visit http://forsakenharvest.com.
"Forsaken Harvest: Haciendas and Agrarian Reform in Jalisco, Mexico: 1915-1940"
By: Luis G. Cueva
ISBN: 978-1-4771-5576-9
Hardcover retail price: $34.99
Softcover retail price: $23.99
E-book retail price: $8.99
Available online at Amazon and Barnes & Noble
About the author
Luis G. Cueva is a history professor at United States University in Chula Vista, Calif. He earned his doctorate in Mexican history, master's degree in Latin American studies and bachelor's degree in history from University of California, San Diego. His research areas include peasant studies and global hunger. Cueva has an extensive history of involvement in civil rights activism on issues including immigration reform.