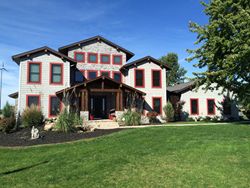 They truly have paid it forward.
Anderson, Indiana (PRWEB) October 27, 2014
Five years ago Indiana custom builder, Hallmark Homes, was selected by the ABC show, "Extreme Makeover: Home Edition" to build a new home for Heather Cowan, now Heather Morgan, and her family in Bunker Hill, Indiana. Their previous mold-infected home was torn down and a new home was built to create a safer environment for her daughter Kori who was suffering from a congenital blood disease.
In a recent interview with the Kokomo Perspective Morgan stated, "There's not much that is the same about our life now. Our family was close before because we were working to save ourselves, and we're close in a different way now where we're working to help others. We're able to not focus on ourselves as much and turn around and help other families fighting the same fight that we fight." The family has been working to raise money for the iroK foundation to help other families and children suffering from blood diseases like Kori's.
Hallmark Homes Owner, Paul Schwinghammer says, "Our relationship with Heather remains strong and we talk frequently. It's fun to watch her kids progress and see how the whole experience has changed their lives for the better. It's a thrill to see the iroK Foundation prosper and benefit so many other families. They truly have paid it forward."
Hallmark Homes is forever thankful for the community wide effort from individuals and businesses to do whatever it took to complete this home for such a deserving family.
In our recent conversation with Morgan she wanted us to share her thanks. "So many people did so much. I know I haven't thanked everyone out there. Our goal is to tell everybody how thankful we are."
About Hallmark Homes:
Hallmark Homes is one of the largest, on-your-lot custom home builders in the Midwest. Having built more than 2,000 homes since 1992, Hallmark Homes' service, quality control, scheduling and warranty are second to none. Hallmark Homes is a proud recipient of the coveted 2008 Keystone Award, 2008 Residential Warranty National Award of Distinction, and 2013 Indiana Excellence Award. Hallmark is also a member of the Better Business Bureau, the National Association of Home Builders, and a Certified Green Builder. For more information, visit http://www.hallmarkhomes.com.