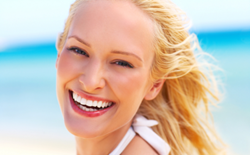 Washington, DC (PRWEB) October 28, 2014
Thoughts are very powerful and can affect a person's general attitude. The attitude someone carries reflects on their appearance as well, unless, they are a great actor. It doesn't end there, someone's attitude can also affect the people around them. The type of attitude a person carries depends on themselves. It can be either positive or negative.
Positive thoughts have a filling effect. They are admittedly invigorating. Plus, the people around the person carrying positive thoughts are usually energized by this type of attitude. Negative thoughts on the other hand have a sapping effect on other people. This month in celebration of Honoring Emotional Wellness Month, Dr. Sanjay Jain has published a new blog entitled, "Happiness: The Ultimate Feel of Peace and Bliss" on his website and has provides some tips to having more happiness and a positive attitude below.
A positive attitude attracts others, while a negative attitude repels them. People tend to shy away from those who carry a negative attitude. Individuals can also define attitude as the way of looking at the world. If someone chooses to focus on the negative things in the world, more or less they probably have a negative attitude brewing up. However, if they choose to focus on the positive things, they are more likely carry a positive attitude.
Individuals have much to gain from a very positive attitude. For one, studies have shown that a positive attitude promotes better health. Those with this kind of attitude also have more friends. projecting a positive attitude also helps one to handle stress and problems better than those who have a negative attitude.
A positive attitude begins with a healthy self-image. If a person loves the way they are and are satisfied, confident, and self-assured, they also make others are around feel the same way. A negative attitude, on the other hand, has, of course, an opposite effect. So, carrying a negative attitude has a twofold drawback. They feel bad about themselves and make others feel the same way.
If a person wants a healthier outlook in life, they need to think happy thoughts, and they have to hear positive things as well. So, what can someone do? Well, for starters, they could see a funny movie, play with children, spend some time telling jokes with friends. All these activities fill a person with positive stimuli, which in turn promotes positive attitude.
Although it is impossible to keep ourselves from the negative things around us, a person can still carry a positive attitude by focusing on the good things, the positive things in life.
They do not have much to lose by adopting a healthy, positive attitude. Studies show that such an attitude actually retards aging, makes you healthier, helps a person develop a better stress coping mechanism, and has a very positive effect on all the people they meet every day. So, what's not to like about a positive attitude? Adopt one today.
For more information on this and related topics please visit Dr. Sanjay Jain's website at http://www.sanjayjainmd.com/.
About Dr. Sanjay Jain:
Sanjay Jain, M.D. MBA is a New York Times and USA Today Best Selling author, accomplished medical doctor, health expert, life coach and inspirational keynote speaker who has dedicated his life to helping people find their purpose by achieving a meaningful life that they deeply cherish.
Sanjay Jain is U.S. trained and a board certified physician with over 15 years of clinical experience. He holds certifications in Diagnostic Radiology, Integrative Medicine, and Healthcare Quality and Management. He is a graduate from the accelerated BS/MD program at The Northeast Ohio Medical University. He has diversified experience in the private practice, academic, and integrated multispecialty settings.
He was a former assistant professor at The Ohio State University where he also obtained his MBA at the Fisher School of Business. The combination of which has given him a unique voice and understanding of the many issues we face today in a real and practical sense.
Follow Sanjay on Twitter at @sanjayjainmd. His new book, Optimal Living 360: Smart Decision Making for a Balanced Life (Greenleaf) is available in stores now!