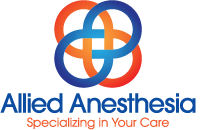 Allied Anesthesia consistently scores well above the national average when compared with other anesthesiology groups nationwide.
Orange, Calif. (PRWEB) October 23, 2014
Allied Anesthesia patients now have the opportunity to provide feedback to their physicians if they have a question or concern about their anesthesia experience.
Last year, Allied Anesthesia hired an independent company called SurveyVitals to survey all of its patients, who are asked to rate the group on a scale of 1 to 5 on the quality of care they received.
Just recently, the group added an optional Contact Me feature that allows patients to request a phone call or email from a company representative to discuss their experiences.
The SurveyVitals experience has resulted in improved practices among Allied physicians and in greater patient satisfaction.
"We've received a lot of positive feedback," said Dr. Salomon Maya, who coordinates the survey for Allied Anesthesia. "It reinforces the message that we do our best to go above and beyond for our patients."
While some of the comments deal with issues beyond the control of the anesthesiologists, Maya said others have been very useful and have altered the way some physicians, including himself, deal with their patients.
While the overall number of complaints is low, one of the most common concerns deals with respect for patient privacy.
"Now, I'm constantly aware and pay special attention to my patients' privacy," Maya said. "I make sure I close the curtain behind me and ask if they want the family to step out of the room."
Another common complaint is that the anesthesiologist didn't discuss anesthetic options with the patient.
"A lot of times, there is no other option; it's general anesthesia or general anesthesia," Maya said. "Now, I will make the point with my patients that, although there are different types of anesthesia, for this type of surgery our only option is general anesthesia to make them comfortable."
Maya said Allied Anesthesia consistently scores well above the national average when compared with other anesthesiology groups nationwide.
"Just being an anesthesia group that does that kind of survey already puts you in the top percentile of anesthesiologists who really care in terms of improving the quality of care," Maya said.
Allied physician Dr. Tony Ho said SurveyVitals gives the group a way to compare its performance on more subjective matters, like patient communication and effectively easing a patient's anxiety, with other anesthesia groups that have also chosen to participate.
"We had no way to measure how effective we were in that regard and that's part of the whole package of being a good anesthesiologist," Ho said. "We have a lot of good clinicians, but bedside manner is something all of us can strive to be better at."
After one patient complained about not fully understanding the pain medication regimen, Ho said he is more careful now to fully explain pain medication and make sure the patient clearly understands his explanation.
Allied physician Dr. Kaveh Matin said every anesthesiologist's response to SurveyVitals feedback can do more than improve patient satisfaction with Allied Anesthesia. It also can have a positive impact on the hospital's bottom line.
Patient satisfaction scores as measured by the Hospital Consumer Assessment of Healthcare Providers and Systems (HCAHPS) survey are used by Medicare to determine hospital reimbursement rates.
"Our SurveyVitals scores not only have a direct effect on us, they also have an indirect effect on the hospital's patient satisfaction scores," Matin said.
---
About Allied Anesthesia: With over 100 highly qualified physician anesthesiologists on staff, Allied Anesthesia provides adult and pediatric anesthesia services to St. Joseph Hospital of Orange, CHOC Children's Hospital, St. Jude Medical Center in Fullerton, San Antonio Community Hospital in Upland, St. Mary's Hospital in Apple Valley and many other Southern California health care facilities. In 2014, Allied Anesthesia joined with Fullerton Anesthesia Associates and Upland Anesthesia Medical Group to consolidate best practices in more than six hospitals and more than a dozen ambulatory surgery centers. The expanded medical practice is dedicated to offering the highest comprehensive quality of care and the most cost-effective procedures in all facilities they serve. All Allied physician anesthesiologists are board certified in Anesthesiology and they staff and manage the most efficient operating rooms in Southern California. Allied is a member of the California Society of Anesthesiologists, the American Society of Anesthesiologists, and the Anesthesia Quality Institute.
For more information, visit: http://www.alliedanesthesia.com