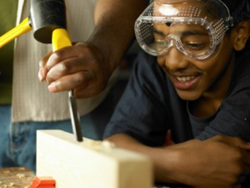 Washington, DC (PRWEB) October 28, 2014
Eye injuries are common at work and home, it is important to take precaution and care to make certain eyes are properly protected. The following are a few things to keep in mind to help ensure eyes are taken care of.
There are a couple of alternatives in regards to eye protection, safety glasses and safety goggles. Safety glasses should offer protection from debris and the sun. Employees who have prescription lenses can have their safety glasses modified to match their normal prescription needs. Safety glasses have any options in size, shapes, features but one of the most important is to ensure the lens is durable and has some protection on the side of the eyes to add greater protection.
Safety goggles are often the better alternative because they offer better all around protection and a better fit, as straps are used around the head to ensure they fit tightly. They are highly endorsed for protection against common chemicals, fumes and debris.
Neither safety glasses nor safety goggles are a one-size-fits-all. Workers who wear them need to check to make sure there are no gaps around the edges, sides, tops or bottoms of them to ensure there are no open places debris can make its way into. The eye protection should be comfortable and nonrestrictive.
Work is not the only place for eye protection, there are many tasks around the home in which eye protection should be used. For example, lawn or gardening work, any remodeling done around the home, painting, basically any task around the home in which the potential for any debris or chemical can get into the eye. Often times individuals take their sight for granted, please make sure you keep this information in mind the next time you set out to complete a job or task, whether at work or at home.
For more information on this and related topics please visit Dr. Sanjay Jain's website at http://www.sanjayjainmd.com/.
About Dr. Sanjay Jain:
Sanjay Jain, M.D. MBA is a New York Times and USA Today Best Selling author, accomplished medical doctor, health expert, life coach and inspirational keynote speaker who has dedicated his life to helping people find their purpose by achieving a meaningful life that they deeply cherish.
Sanjay Jain is U.S. trained and a board certified physician with over 15 years of clinical experience. He holds certifications in Diagnostic Radiology, Integrative Medicine, and Healthcare Quality and Management. He is a graduate from the accelerated BS/MD program at The Northeast Ohio Medical University. He has diversified experience in the private practice, academic, and integrated multispecialty settings.
He was a former assistant professor at The Ohio State University where he also obtained his MBA at the Fisher School of Business. The combination of which has given him a unique voice and understanding of the many issues we face today in a real and practical sense.
Follow Sanjay on Twitter at @sanjayjainmd. His new book, Optimal Living 360: Smart Decision Making for a Balanced Life (Greenleaf) is available in stores now!