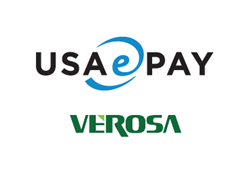 Glendale, Calif. (PRWEB) October 27, 2014
Verosa's software Payment Terminal for QuickBooks® is an easy-to-use software that fulfills the needs of merchants who are using QuickBooks® and want alternate avenues of processing. The Verosa software is quick to install and merchants can start processing payments in as little as 10 minutes. This Level 1 PCI compliant solution also provides merchants with an end-to-end constant, secure and fraud prevention platform.
The software payment terminal allows merchants to quickly pay QuickBooks® invoices, statement charges and sales receipts using their USAePay credit card or ACH/eCheck accounts. Users can easily manage multiple merchant accounts with various QuickBooks® company files, securely store multiple cards or accounts per QuickBooks® customer and jobs, process multiple periodic credit card and eCheck transactions at the same time, post back to QuickBooks® instantly, and more. Verosa's software payment terminal is integrated with desktop QuickBooks® Pro, Premier, Enterprise and Accountant editions 2009-current (2015) and operates on Windows 7, 8.1, and Server 2008-current (2012).
Deryk Marien, President at Verosa, LLC, stated, "Verosa is delighted with the opportunities this partnership will have for USAePay, their agents and merchants. We are always looking for ways to strengthen the agent to merchant relationship and experience while at the same time provide the tools merchants need to be more efficient and save time. USAePay is a reliable merchant processing platform and we are excited to have them add our software solutions to their offerings."
Vlad Galyuz, VP of Technology at USAePay, stated, "Intuit's QuickBooks is a growing software package used by more than one million customers. USAePay is happy to announce Verosa, a QuickBooks processing software that lets USAePay merchants process payments from QuickBooks. We like that Verosa is a full service software that bridges USAePay merchants and their QuickBooks' invoices. Verosa prides itself on keeping up with Intuit's updates and we feel confident that USAePay merchants will find Verosa to be a valuable asset to their version of QuickBooks for a seamless integration."
Discover capabilities within the Verosa Payment Terminal for QuickBooks® by visiting http://www.verosa.com/payment_terminal.cfm.
To learn more about integrating with USAePay Level 1 PCI Compliant Payment Gateway, visit http://www.usaepay.com.
###
About Verosa, LLC: Verosa is a rapidly growing integration and software solutions provider based in Vancouver, Washington. For more than 20 years, the company's senior staff have provided merchant processing software integrations, affiliate marketing platforms, gateway integrations and reseller solutions to its clients. Verosa products and services are developed specifically to improve the ISO/Agent to merchant relationship and increase profitability and merchant loyalty. Verosa products are currently available for both the U.S. and Canadian merchants.
About USAePay: USAePay is a family-owned business based in Los Angeles, California. For more than 15 years, the company has been assisting merchants with payment processing solutions to fit their needs. USAePay's payment gateway supports most of the major platforms in the credit card industry and works with some of the leading check platforms. USAePay is pleased to work with most of the larger merchant service banks in the U.S. and Canada. For more information, please visit http://www.usaepay.com or call 866.USA.EPAY (872-3729).