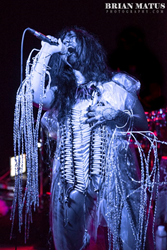 Pleroma has it all: drama, emotion, moving power ballads, captivating lyrics and catchy rocks songs with just enough dark edge and pop hooks to ensnare new fans.
New York, New York (PRWEB) October 24, 2014
Art-progressive rock group Vajra will play a CMJ afterparty presented by Label Recruit and The Log Cabin Studio at the Manhattan Center in NYC this Saturday, October 25 at 9:15PM.
The band just completed a set of performances providing direct support for Saving Abel, and will continue to be on the road through December, rounding out their tour with dates in their hometown of NYC. Their single "Blind (Blood Mix)" was added to rotation at SiriusXMs Octane in August and is currently in rotation at KHWL/ALTUS, KAZY/CHEYENNE, KHAD/UPTON, KTED/CASPER, KROW/CODY, WPNT/VILLA RICA, KRWN/FARMINGTON, KFML/LITTLE FALLS and is receiving airplay at KQDI/GREAT FALLS, WOBG/FAIRMONT.
Vajra has been on the road since May and are planning on taking some time off this Winter to work on new material for their next release.
"Playing through a set that was a passionate blend of enchanting Middle Eastern tones and European Power Metal, the band captured the imagination of all who came out": Cryptic Rock Magazine talking about Vajras show at Revolution Music Hall in Amityville, NY.
The Big Takeover Magazine states, Vajra's music is, "sinister, sprawling, and stately featuring booming, tribal drums, ominous synths and lucent, spiraling guitars...[w]hat further sets them apart is the East Indian mysticism that pervades thanks to Pinna's hypnotic, Classical Hindustani-tinged singing."
Progression Magazine states that Vajra's music is, "an innovative nexus of melodic prog, world beat and hypnotic eastern vibes, delivered with dramatic panache."
"Pleroma has it all: drama, emotion, moving power ballads, captivating lyrics and catchy rocks songs with just enough dark edge and pop hooks to ensnare new fans." - Rick Jamm, Jamsphere Indie Music Magazine
For more about Vajra, go to: http://www.thevajratemple.com