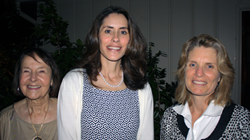 In fact, parental abuse of digital devices has the potential to create deep emotional consequences for their children.
Santa Barbara, CA (PRWEB) October 25, 2014
More than 50 Family Service Agency supporters attended the charity's annual President's Circle Reception on Monday at the home of Jim and Shirley Ann Hurley to celebrate FSA's accomplishments and hear from guest speaker Dr. Winifred Lender on finding the balance between the real and digital worlds.
Dr. Lender, a Santa Barbara psychologist, author and Noozhawk columnist, gave a fascinating talk on the challenges and benefits of living in the digital age. Our digital reality is a relatively new phenomenon, and like most novel inventions, we have embraced it, with little thought to how it influences our development and health. Research shows that digital use impacts our relationships with others, sleep, and attention. She also pointed out that a subset of people become addicted to digital devices.
"We use digital devices to keep us company when we are alone, prevent us from being bored and soothe us when we are anxious," states Dr. Lender. "The use of these devices has grown significantly over the past several years. Currently, adults spend an average of almost nine hours daily in front of a screen (TV, cell phone, laptop or computer) and much of this time is spent multitasking with two or more devices."
In fact, parental abuse of digital devices has the potential to create deep emotional consequences for their children. Studies show that becoming second fiddle to their parent's cell phone, for example, tells kids they aren't interesting or worth their parents' time.
Dr. Lender also outlined the many benefits of technology including quick and easy access to information, social networking, enhanced productivity and entertainment. She recommends developing a digital plan that clarifies how you want to interact with the digital world; removing digital devices from the bedroom at night as they can interfere with sleep; taking digital vacations; and knowing the signs of digital dependence.
Due to the enthusiastic response to the topic, Family Service Agency of Santa Barbara plans to host a public forum on the impact of the digital world on our mental health and relationships in February 2015.
ADDITIONAL RESOURCES
http://www.noozhawk.com/article/winifred_lender_20130723
http://www.npr.org/blogs/health/2014/04/21/304196338/for-the-childrens-sake-put-down-that-smartphone
ABOUT DR. WINIFRED LENDER
Dr. Winifred Lender is a licensed psychologist in private practice in Santa Barbara, California. She provides cognitive-behavioral therapy for clients of all ages with various presenting concerns including sleep issues, anxiety, mild depression and those seeking tools to better balance the real and virtual worlds. Dr. Lender completed her undergraduate work at Cornell University and received her master's and doctorate degrees at the University of Pennsylvania. She completed a fellowship in psychology at Children's Hospital of Philadelphia/The University of Pennsylvania School of Medicine. She is a past President of the Santa Barbara County Psychological Association and is currently on the Advisory Board of the Storyteller Children's Center and the Crane Country Day School. She is the author of the book A Practical Guide to Parenting in the Digital Age: How to Nurture Secure, Balanced and Connected Children and Teens. Dr. Lender is also a columnist for the Noozhawk, a digital Santa Barbara newspaper, where she writes on a range of psychological topics. Dr. Lender and her husband are also the proud parents of three children aged 8 to 17 years old.
ABOUT FAMILY SERVICE AGENCY
Countywide, more than one out of five children and adults live in poverty, many of whom also experience violence, mental illness, and substance abuse. These risk factors are consistently associated with negative impacts like physical and mental health challenges; and for children, challenges with school performance. Compounding the problem is an inadequate number of professionals available to address residents' behavioral health needs, even for those with insurance. Also, cuts in local human service programs have strained the safety net infrastructure, leaving low-income, at-risk individuals and families without adequate resources to make ends meet.
Established in 1899, Family Service Agency (a nonprofit organization) addresses the negative impact of these and other challenging issues through four core programs.

FSA's Family Support Services program educates parents so they are better equipped to overcome major sources of toxic stress such as poverty, violence, mental illness, and substance abuse. Their bilingual staff guides families through active skill building to create a healthy environment essential to children's lifelong learning, health, and behavior. This is done through parenting classes, home visits and linking to resources such as healthcare, food, shelter, child care, and education.
Recognized as the single most effective prevention-based youth mentoring program in the United States, Big Brothers Big Sisters carefully matches adult volunteer mentors with at-risk children aged 6-15. Studies find that the children served by the Big Brothers Big Sisters program are more likely to succeed in school, make safer behavioral choices and have stronger relationships with their parents and others.
Accessible, affordable and effective mental health counseling services are provided for children, youth, adults and families through FSA's Youth & Family Services program. The services, which include Child & Family Counseling, School-Based Counseling, Intensive In-Home Therapy and Youth Probation Counseling, help effect positive, long-term improvements for overall quality of life. This includes decreasing the likelihood of high-risk behaviors, and for students, improving academic success.
FSA's Senior Services program gives seniors and caregivers the tools they need to cope and live safe, independent and healthy lives. The services provide clients with mental health counseling, support, and connection to resources such as nutrition, transportation and financial assistance. FSA also operates the Long Term Care Ombudsman program for Santa Barbara County, where Ombudsman advocates for people living in long term care residential facilities.