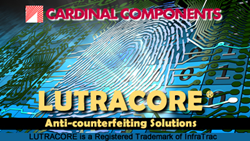 (PRWEB) October 27, 2014
Worried about counterfeiters? Cardinal Components, Inc., and its exclusive partner InfraTrac Inc., announce Lutracore® fingerprinting, a new method of safeguarding electronic components from counterfeiting using chemically coded fingerprints.
About Lutracore®
Existing approaches to detecting counterfeit electronic components rely heavily on expensive testing. But expensive tests encourage shortcuts . and shortcuts do not catch fakes. So it is imperative, to keep ahead of increasingly sophisticated counterfeiters, to employ a solution that is simple, fast, and cost-effective.
Lutracore® anti-counterfeiting, designed to be nimble, is that solution. With Lutracore® fingerprinting, there is no one "secret ingredient" that a determined counterfeiter can discover and circumvent. Instead, the Lutracore® solution marshals millions of possible chemical codes to present a resilient defense against fake products in the supply chain. With thousands of RoHS, REACH, and WEEE-friendly safe ingredients to choose from, manufacturers have enough code combinations to stay well ahead of the game. The patented Lutracore ® coding system can hold comprehensive information about where the product was created, and by whom. Material cost is low, with no need for expensive gold- coated nanospheres or tiny manufactured taggants. The result is a system that is easy to use and adaptable to protect the authenticity of your product.
The exclusive partnership between Cardinal and InfraTrac takes advantage of both companies' strengths: Cardinal's knowledge and experience in electronics, and InfraTrac's expertise in detecting counterfeits using spectroscopy. Cardinal is well positioned to bring Lutracore® unique technology to the electronics industry. Cardinal will license the Lutracore® system, offering it to the electronics industry. Cardinal will also sell the low-cost portable spectrometers for authenticating products.
Cardinal expects the first Lutracore®-based components to be available in December 2014. For more information, please contact Cardinal Sales at sales(at)cardinalxtal(dot)com. In sum, the Lutracore® chemically coded fingerprint provides the authenticity the industry seeks, while preserving the core values, core principles, and core strength of product quality. Samples of the new anti-counterfeit device can be obtained by contacting Cardinal or one of its authorized distributors worldwide.
About InfraTrac
InfraTrac is a technology company that uses spectroscopy to detect counterfeiting and diversion of high-value substances, such as pharmaceuticals, chemicals, and consumer products. InfraTrac tags plastics, metal, ceramics, paperboard, and even drugs and cosmetics, making it possible to prevent counterfeit materials from entering the supply chain. InfraTrac applications extend to any product that needs tracking and anti-counterfeiting measures, so you can tell the fakes from the real thing. You can learn more about Infratrac's technology by visiting their website at http://www.infratrac.com
About CALCE
The Center for Advanced Life Cycle Engineering (CALCE) at the University of Maryland (http://www.calce.umd.edu) has also played a key role in evaluating and adopting InfraTrac tagging and tracking technology in Cardinal products. The Counterfeit Electronic Part Symposium organized by CALCE and SMTA in 2012 covered part-authentication issues in great detail and helped get these two technology companies together and on the path to a partnership. InfraTrac and Cardinal Components have also received assistance from CALCE in high-stress exposure of marked components and in evaluating the impact of such exposure on the taggants and parts.
About Cardinal Components
The Lutracore® solution continues the expansion of Cardinal Components' high quality and successful line of programmable series of oscillators, TCXO, VCXO, Spread Spectrums, fixed- frequency product lines and custom timing modules. You can learn more about Cardinal Components, Inc., Lutracore® anti-counterfeiting, and Cardinal's complementary products by visiting Cardinal's website at http://www.cardinalxtal.com or http://www.Lutracore.com or by contacting Cardinal's COO James Magos at jmagos(at)cardinalxtal(dot)com.
For further information on the Center for Advanced Life Cycle Engineering (CALCE) at the University of Maryland and the services it provides to the electronics industry and particularly to the component supply chain, please contact Dr. Diganta Das diganta(at)umd(dot)edu.