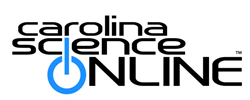 We see digital as a compliment to our hands-on kits, reinforcing and strengthening what is learned through experimentation.
Burlington, NC (PRWEB) May 05, 2015
Carolina Biological Supply Company's digital science platform, Carolina Science Online, is now being used in over 10,000 classrooms in the U.S.
Responding to customer requests and insights, Carolina Biological Supply began offering digital content for science education in 2010. These digital assets can stand alone or be used complimentary to Carolina's traditional hands-on kits.
Carolina curates content from around the world looking for high quality, engaging digital content and solid pedagogy, matching it to Carolina kits and products as well as to state and national standards.
Partners include:
Learnetic, a comprehensive digital science solution for whole class and individualized instruction. Twig, an award winning science film series for Middle and High School; TigTag, an award winning science film series for Elementary School; The Education Development Center; Scientific Minds; as well as proprietary Carolina Digital Content and a series of iPad and iPhone apps for science education all developed in house.
"With the increased use of tablets and other mobile devices in the lab and in the classroom, we are responding to requests from teachers for excellent, validated science content to use on those devices as well as on their interactive white boards," said Shuana Jordan, formerly a high school chemistry teacher and now Product Manager at Carolina Science Online.
From its beginnings in 1927, Carolina Biological Supply Company has grown to become a leading supplier of science teaching materials. Today, from its headquarters in Burlington, North Carolina, Carolina serves customers worldwide, including teachers, professors, home-school educators, and professionals in health and science-related fields.
To learn more about apps for science education and Carolina Science Online, go to http://www.carolinascienceonline.com and http://www.apple.com/itunes. For media or other inquiries, please contact James McPherson, Director of Strategy and Business Development at Carolina Biological Supply.