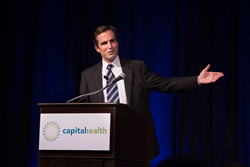 ATLANTIC CITY, NJ (PRWEB) October 23, 2014
Journalist Bob Woodruff recounted his traumatic brain injury and long recovery in a speech, both harrowing and inspiring, that kicked off Capital Health's 6th Annual National Neurosciences Conference.
Woodruff told the physicians, nurses and other clinicians at the three-day conference about the challenges — for both him and his family — involved in his recovery.
Woodruff was in Taji, Iraq, reporting on U.S. and Iraqi military security forces for ABC in 2006 when he was struck by a roadside bomb. The bomb created a powerful sonic blast followed by a shower of rock, metal and sand. Expert military surgeons and medics in the field saved his life, and later, in Bethesda, Maryland, he continued to recover.
"After six weeks I woke up and I couldn't understand anything," he said. "I could not remember the names of presidents, states. I did not know who George Bush was. I lost the hearing in my left ear," he said. "Anyone who has gone through something like this may realize, 'I am not the same person as I was before. … But maybe there is something new I can accomplish in my life.' "
Woodruff was introduced by Rocco A. Armonda, MD, FACS, Col (Retired), who treated him in the U.S. Dr. Armonda recalled the day when Woodruff, still in a coma, was visited by one of his daughters and she held her father's hand.
"And I saw the faintest tear come out of Bob's eye. At that moment, there was a form of awareness and connection that went beyond the neurological examination. Someone inside that damaged body and brain recognized his daughter. This is what our patients teach us," Dr. Amonda said.
The two speakers provided a powerful introduction to the three-day conference, October 22 to October 24. The conference includes nearly two dozen sessions by noted neurologists and neurosurgeons addressing topics such as stroke, epilepsy, Alzheimer's disease, Parkinson's disease and autism.
Dr. Erol Veznedaroglu, director of Capital Health's Capital Institute for Neurosciences, said Woodruff's story shows the need for both expert medical care and concern for families.
"Bob reminds us why we are all here for three days of intensive learning," he said. "We want to advance neurologic care so all patients will have the best outcomes possible. We know the best care can make the difference not just between life and death, but between a person going back to their lives, their jobs, their families."
More than two dozen physicians — from Capital Health and other institution around the nation — will provide the latest science on neurologic topics. Some of the topics include:

Mandy J. Binning, MD, talks about the pre-hospital stroke alert that is speeding treatment to stroke patients.
Michelle L. Dougherty, MD, discusses recent advances in the management of epilepsy.
Michael Y. Wang, MD, FACS, discusses strategies in minimally invasive spinal surgery.
Reginald J. Blaber, MD, FACC, discusses cardiovascular risk for stroke.
Mitra Assadi, MD, describes the field of neuro-genetics.
Olga Goldfarb, MD, talks about the "long-lasting mystery" of autism.
Jill M. Farmer, DO, MPH, talks about medical and surgical management of Parkinson's disease.
"The thirst for information about neurological disease and injury is great, and we believe we have an obligation to advance the knowledge about the neurosciencesto help not just our patients at Capital Health but all patients with brain and spinal conditions," Dr. Veznedaroglu said.