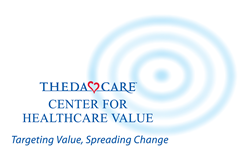 Appleton, Wis. (PRWEB) October 23, 2014
The ThedaCare Center for Healthcare Value is led by an independent board of healthcare thought-leaders from around the world, and is pleased to announce its newest board members: Leonard Berry, Ph.D., Kathryn Correia and Beth Daley Ullem.
DR. LEONARD BERRY holds many distinguished roles at Texas A&M University, including University Distinguished Professor of Marketing, Regents Professor, and Presidential Professor for Teaching Excellence, among others. He is a Senior Fellow of the Institute for Healthcare Improvement, where he is studying service improvement in cancer care for patients and their families. A skilled writer, Dr. Berry has written ten books and numerous academic articles about his research of healthcare service, including Management Lessons from Mayo Clinic. His research and teaching have been widely recognized with many honors, and he is an invited lecturer throughout the world.
KATHRYN CORREIA, president and CEO of HealthEast Care System in Minnesota, is an expert in developing and transforming healthcare systems to create greater value for customers and communities. Her work using lean principles to transform health delivery models has been featured in several national publications. In addition to her work at HealthEast Care System, Correia serves on numerous boards, including the Center for Lean Healthcare Research Leadership Council, the Minnesota Hospital Association Board, the Community University Board, and the YMCA of the Greater Twin Cities Board.
BETH DALEY ULLEM is a nationally-recognized expert for creating initiatives aimed at decreasing preventable hospital errors and increasing the transparency of clinical outcomes. She works with hospital leadership teams, hospital boards and healthcare industry leaders to develop programs that reduce risk and improve patient safety and quality. Daley Ullem has worked on board education projects for Solutions for Patient Safety, Harvard Medical School's Institute of Professionalism of Ethical Practice, Center for Medical Simulation, National Patient Safety Foundation, and other leading healthcare institutions. In addition to her consulting efforts, she serves on ThedaCare's board and quality committee. She also is on the National Patient Safety Foundation's board of governors.
"Each of these new board members brings a unique perspective to solving the problems faced in healthcare," said Center President and COO Helen Zak. "We are excited to learn and grow through their leadership as we advance our mission of transforming the healthcare industry."
THEDACARE CENTER FOR HEALTHCARE VALUE
The ThedaCare Center for Healthcare Value is an education institute that believes we must have three essential elements for sustainable change in healthcare: Delivery of care designed around the patient; payment and incentives based upon value and outcomes; and transparency of performance (quality and cost) throughout the healthcare system. Founded in 2008 and headquartered in Appleton, Wisconsin, we are a small not for profit with a big mission to help change the healthcare industry. Learn more at: createvalue.org